Victorian Bay Windows for Period Properties
You can enjoy authentic Victorian bay windows that perfectly match the original window designs of period properties. Our Victorian and Edwardian designs can effectively imitate an original bay while conforming to the high standards of modern building regulations. We are the best solution for double-glazed Victorian bay style windows that add 21st-century comforts to a 19th-century Victorian house.
We can provide new bay windows or window replacement services that faithfully match the Victorian style but also offer greater energy-efficiency and home security. You can have a bay window with the same pane of glass that a modern double-glazed frame will use, but the authentic look of the original bay. If you require sash windows, box sash windows or windows that are flush with the exterior wall our team can help you to find a solution that suits your budget.
We can help you select and install Victorian bay windows in your entire home or just on the ground floor, which offers excellent security for street-facing windows. 
For a completely new installation or a partial window replacement please feel free to get in touch with us for a fast and accurate quote.
Benefits of Our Victorian Bay Windows
The core benefits of using our services are that you can improve your standard of living without compromising the authenticity and design of your home. 
By choosing us you are guaranteed to get a result that fits the feel of a period building, while subtly incorporating the additional benefits of modern double-glazed window designs. 
Other benefits of our Victorian bay window replacement and installation services include the following: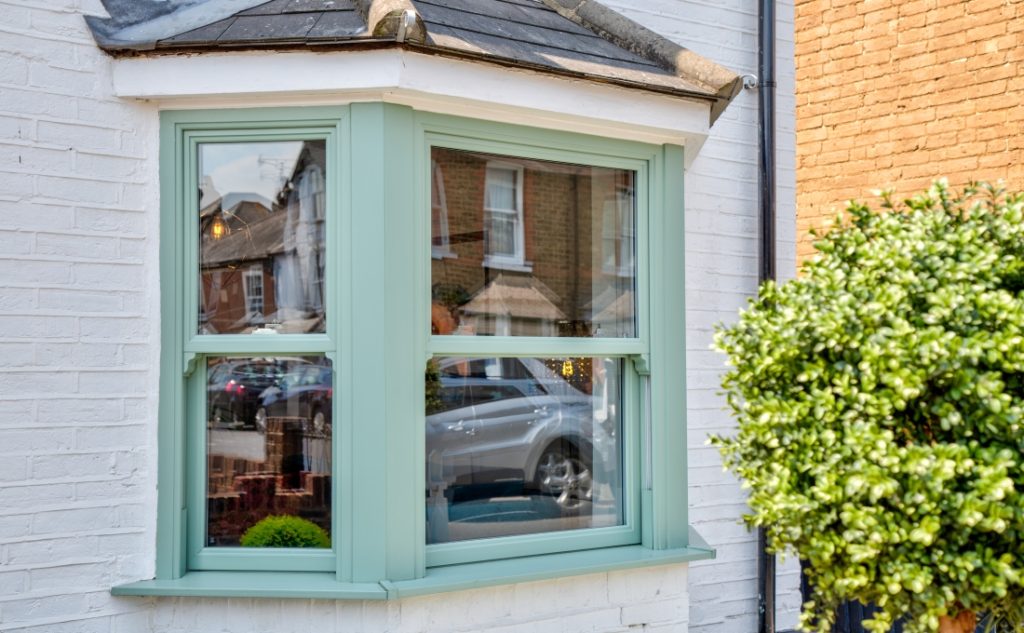 Lower noise pollution
Original Victorian bay windows are notoriously poor performers when it comes to noise pollution, due to them usually using only a single pane of glass. The thick, durable and well-sealed double-glazed Victorian-style windows we install have much better insulation and lower noise pollution, meaning you can enjoy better sleep and a higher sense of privacy.
Higher-security
The durable bay windows we provide will give you a much better level of security, particularly for windows on the ground floor. Older Victorian-style windows are sometimes easier to force open or have flimsy locking mechanisms, but our sturdy frames, reliable locking mechanisms and thick panes of glass will effectively boost security.
An affordable, authentic result
Our UK-manufactured products make use of the best craftsmanship and design techniques for impressively functioning Victorian-style windows that are available with options to suit most budgets. Our friendly and knowledgeable team can help guide you through product selection, glazing types and extras that match your price range.
The best of both worlds
You will get the best that Victorian-style windows have to offer alongside the conveniences of modern window designs. We are the perfect suppliers and installers of windows that deliver high performance with a sensitive level of design – all of which comes alongside our superb reputation for quality.
Why Choose Us for Your Victorian Bay Windows?
Our expert team has the best knowledge and ability to help you select and design the most appropriate windows for your property, and our professional installers will provide a swift and long-lasting installation.
You can relax in the comfort of knowing that all of our UK-made products are delivered in line with our commitment to the environment and sustainability. The windows we offer actively help reduce carbon and promote energy-efficiency.
If you would like a better idea of what people say about using our services you can visit our testimonials page for more details. One very happy client has the following to say about us:
"I can't recommend Sash Windows London Ltd enough! The consultation was concise and clear and the install was swift, easy and effortless." – Marc Benoit
The hard-earned reputation we have built leads us to receive many fantastic reviews on independent trade sites, including Trustpilot.
Modern Victorian Bay Window Installation and Replacement
It is entirely possible to give a new lease of life to your Victorian house with our top-class window installation and window replacement services. You can get the benefits of a modern double-glazed window with an authentic look for your home.
When installing your Victorian bays we will take all of your design and cost requirements into account to come up with a bespoke solution. You can get in touch with us today for a fast and accurate quote on your new Victorian bays.