Sash Windows London Ltd have a beautiful range of high quality sash windows which are available for installation in Kensington, SW7. We're a family owned business with an excellent reputation for the quality of our windows and our work. We have many years of knowledge in sash windows and pride ourselves on our excellent quality workmanship. Our range of sash windows are bespoke and combine heritage values with modern design. Our certification with the Fenestration Self-Assessment Scheme (FENSA) help make our team the most recognised and trusted sash windows company in the Kensington area.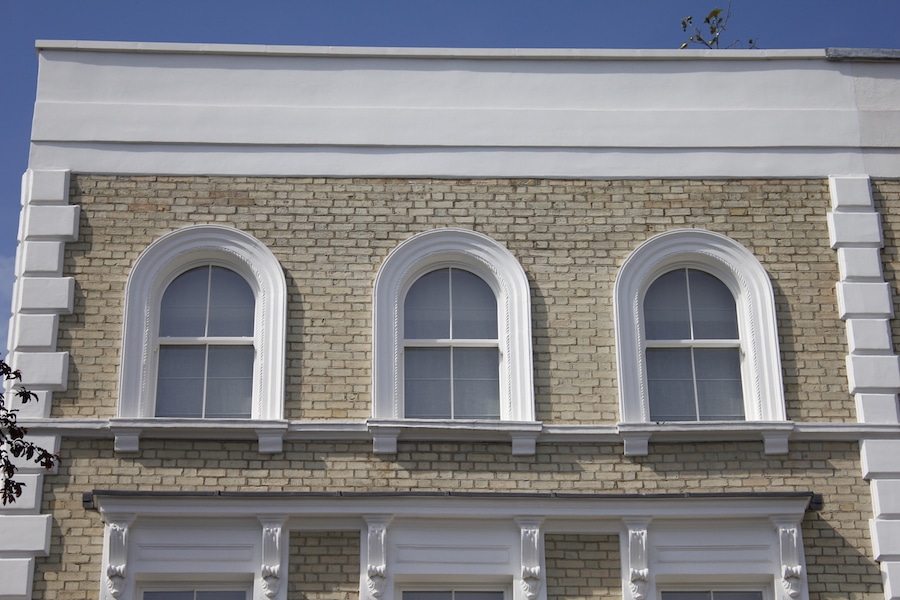 A Sash Windows Kensington Case Study
Pembroke Gardens, Kensington
A striking London Victorian Terrace located in the heart of Kensington. This restoration project has been a labour of love for the clients who have successfully restored their home to its former glory under the strict guidelines for the Edwards Square conservation area.
CC Construction were appointed by the clients to undertake the challenge of restoring this Victorian inspired terrace in the heart of London. One of the focal points for the project was the restoration of the sash windows; and having worked very successfully on similar projects where windows were brought into question CC construction turned to Sash Windows London for their help and expertise.
Sash Windows London Ltd have built their reputation on a high standard of customer service and quality and were the natural choice for CC Construction in the undertaking of this sensitive project.
In the original plans for the project the exterior facade including the windows and doors were to be refurbished in line with the Councils guidelines for conservation of the area but after visiting the Sash Windows London showroom in Clapham the client was confident of a sympathetic replacement with the added benefits of noise reduction and improved insulation for their home and opted to replace instead of repair to the approval of the Council.
Maintaining the distinctive character of the properties on the terrace is the Council's main objective with the retention of original design features being a focal point.
With this in mind our Heritage Range was chosen with weight and pulley mechanism in replica of the original windows and their design. The Heritage Range offers both single and SlimLine glazing and with the approval of the Borough the clients opted for the improved thermal efficiency of the SlimLine narrow cavity glazing. Slim 16mm lambs tongue design glazing bars were used to recreate the original bar designs of the Victorian era and curved glazing allowed a perfect match to the retained stone arches on the upper floors.
Interesting Facts
Originally developed between 1858 and 1862, Pembroke Gardens was officially recognised as a conservation area in 1974 when redevelopment began booming in the area simply to protect these buildings from contemporary unsympathetic redevelopment.
Architecturally the facade of Pembroke Gardens boasts the influence of the late Victorian period; large scaling sash windows, fine stucco; heavy railings and intricate balustrades scale the ground and first floors with sweeping stone arches over the windows at the second floor.
As primarily a London based company we've carried out hundreds of sash window installations in the London area. We're experts with planning regulations within Kensington and can provide the highest quality materials to keep your windows in the style of your building.
As a company we are listed on Checkatrade, where we're rated 9.56 out of 10 from 386 reviews. We pride ourselves on quality of service and only use the finest materials to ensure the sash windows we install not only look great, but are built to last.
We like to advise our customers on the most suitable sash windows for their property. There are many factors to consider when replacing windows, such as materials, style and glazing. We provide specialist support to ensure your windows will blend in perfectly with the architecture of your property and existing decoration. Our staff can put together a tailor-made plan for each and every customer to ensure the absolute best solutions are catered for.
One of the biggest compliments we receive as a sash window company is that we listen to our customers. We take on board your necessities, your concerns and your preferences. Our technicians work hard to ensure every detail is laser targeted to ensure complete customer satisfaction each and every time.
We have a huge range of windows to choose from and are happy to supply free quotes to find the perfect sash windows and doors for your property. Additionally custom made window styles can also be prepared on an absolutely free basis.
We manufacture each window separately and all preparations are made to ensure a smooth process from start to finish. We understand that quality is a huge consideration, but so is speed. So, we work hard to produce the highest quality products in the quickest time possible to save any disruptions you may have when completing your project.
Our craftsmanship is continuously being complimented for its dedicated and thoughtful design and our installations for being tidy and precise. Take a look at our comments!
---
We Supply Sash Windows For All Periods and Tastes
Kensington is an historic borough which is renowned for its period architecture and tasteful designs. We stock a substantial selection of windows to satisfy any kind of building within Kensington and will work hard to find the absolute best solution for your property. This is one of the things that make us so popular, not just in Kensington but across the whole of London.

Our sash windows can consist of materials such as timber, or UPVC window and we ensure they are suitable for each property individually. We're leading experts in wooden sash windows, and can provide the best service for products and installations in the Kensington area. We supply modern inspirations while at the same time creating a typical appearance that is in keeping with the traditions of the borough.

Our timber sash window Kensington set up is guaranteed to last for 30 years!

Our sash window designs combine contemporary business strategies which are made for distinct builds. One of our contemporary styles is the spiral sash spiral balance which is crafted to slide vertically.

We're the leading double glazed sash windows experts in Kensington, but also specialise in wooden doors and different window styles, together with UPVC designs. Our double glazed window architects provide our customers with all the essential information they need to make the best, informed decision. We specifically focus on the advantages related to double glazed windows.