High-Security Composite Front Door Solutions
We know that our customers want front doors that don't just look great, but that also ensure their home and family are protected. Your home will be as safe as can be when you choose a composite front door from us. We sell composite front doors in the UK that are manufactured by Solidor, ensuring you receive a front door installation that is high quality, beautiful, and that compliments your home.
By choosing us you will also get the following advantages of our fantastic service:
High security: As a composite door supplier with the highest security standards in mind, we can provide strong multi-point locking systems that ensure all external doors are safe. We can also provide composite entrance doors with a timber core, which gives you the strength a timber door offers.
Thermal efficiency: We supply and fit beautiful door designs that will give you the extra benefit of greater energy efficiency in your home. The entrance of a house will often have more use than a composite back door, so this advantage is particularly beneficial for door designs at the front of a house.
Efficient installation: Our team can install your new composite entrance door quickly and with minimal disruption, we take care of every step of the process for total peace of mind. We can remove any old timber or UPVC doors and fit your new door using the best tools, materials and installation techniques.
Our talented team are there to help every step of the way and can assist in choosing the best door style for your home. We have a reputation for excellence in installing a wide variety of windows and doors across London and offer some of the best products in the UK. Please feel free to get in touch with us for a free quote today.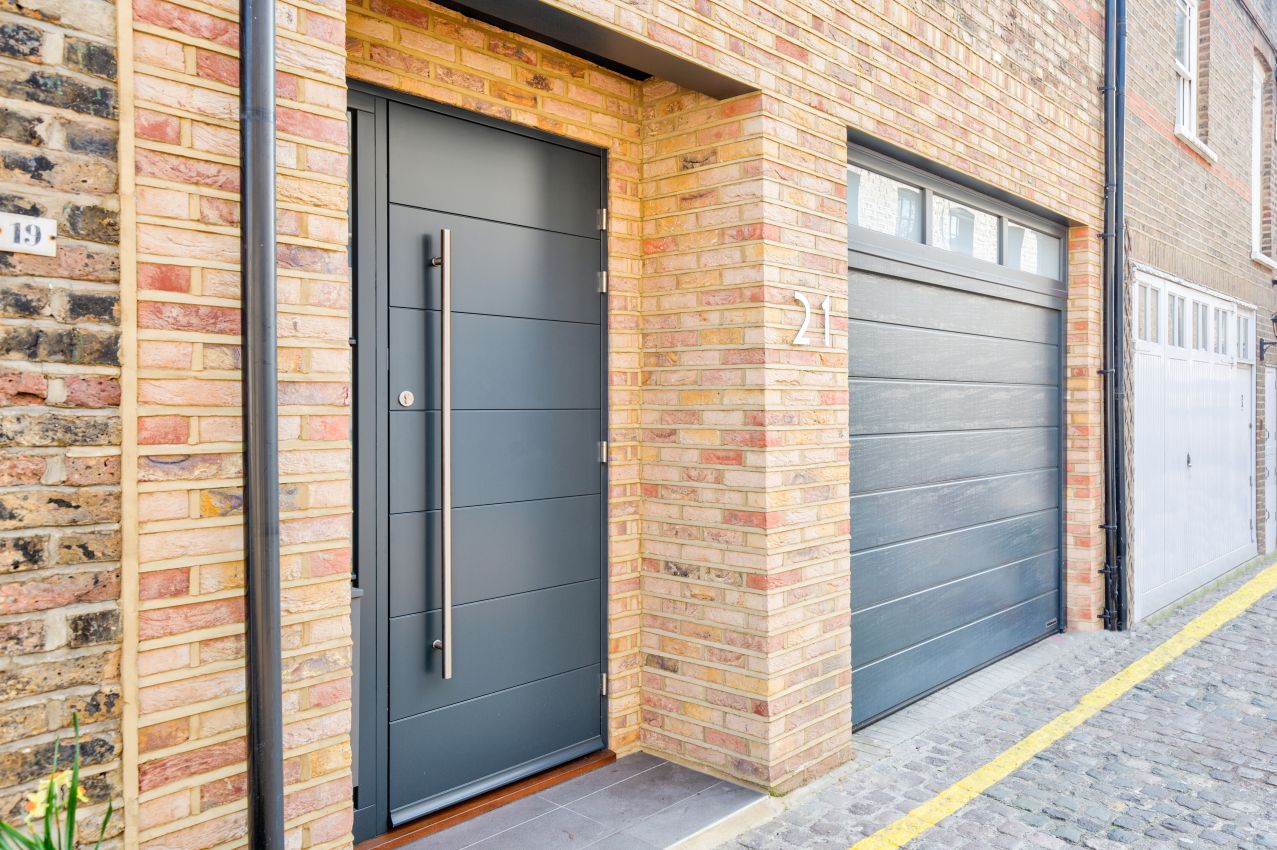 Why Choose Us for Your Composite Entrance Doors?
We offer a wide variety of entrance doors that will be the perfect addition to your home. We sell composite front doors in the UK that are manufactured by Solidor and our team can guarantee the best workmanship and outstanding quality in all of our installations. Please check out some of our case studies for a better idea of the quality of our work.
All of the Solidor front doors we sell are constructed using the finest materials to ensure a door that is long-lasting and fully secure. When you buy a Solidor, you will benefit from the following:
Lead free, 5 chamber profile with 100% recycled reinforcing.
Robust through colour thermo plastic skins.
Realistic wood grain effect or smooth finish.
Thermally efficient Solid Timber Core.
Optional integral mobility access aluminium threshold.
Any challenges that crop up during your installation will not disrupt the project. For example, it can be frustrating when you have a door that is unable to fit your door frame, with many frame spaces on period properties being particularly problematic. However, we can easily fit side panels and our expert installation team can assess how to fit a door into even the most awkward of spaces – fitting modernity into a classic design.
By choosing us you will also get the following advantages:
Customisable designs: If you have a favourite colour for your door or want to keep it within a certain style, you can easily customise the door to your tastes. We offer a variety of finishes, which can add a personal touch to your door and a textured effect. We are confident we can find the perfect door with no compromises.
Solutions to suit most budgets: We only use the best composite entrance doors and can find cost-effective solutions that will suit most budgets. By working with our friendly and experienced team, you can discover the exact right door that satisfies both your tastes and the finances of the project.
Fast quotes: It can be frustrating if you do not fully understand your costs when undertaking home improvements. However, we will provide a precise quote in 24 to 48 hours for all of our work. You can get your project underway in the fastest possible time and our team will begin their work with you right away.
There is no need to take our word for it when it comes to the reliability of our installation services and the quality of the doors that we provide. See below for what one very happy client has to say about working with us:
"I can't recommend Sash Windows London Ltd enough! The consultation was concise and clear and the install was swift, easy and effortless."

Marc Benoit, London
Please feel free to take a look at our testimonials page for more information on the quality of the work that we do – and more glowing praise from satisfied clients who are delighted with their installations. We also have a wide range of positive reviews and ratings on leading independent trade sites such as Checkatrade.
Choose from Over 11,000 Composite Door Colours
Here at Sash Windows London Ltd, we are proud to offer the largest range of composite front door colours available in the UK. You can choose from over 11,000 front door colours and choose from 18 frame combinations.
Choosing the best front door colour will depend on the style of your house and your personal preferences. However, when you purchase with Solidor, you can mix and match your colours to find the perfect combination for your home.
Environmentally Friendly and Contemporary Composite Front Doors
At Sash Windows London, we are passionate about doing our bit to care for the environment and that's why we source our doors from Solidor. At Solidor, they are committed to helping the environment and they are always looking at ways to pioneer greener products and manufacturing methods. All of Solidors packaging is recycled and all timber used to make their doors is harvested from forests that meet the social, economic, and ecological needs of future generations. Our doors are:
Made by naturally renewable timber
Made to last longer
Aesthetically pleasing, adding to your quality of life
Comply with the minimum U-value requirements for building regulations
Made sustainably, so they have fewer environmental impacts than other materials.
So, when you buy a composite door from us, you are supporting the work of Solidor and purchasing a door that is sustainable. What's more, your door can be recycled when it reaches the end of its life.
Modern Composite Front Door Designs
Our contemporary composite front doors are ahead of the times when it comes to design, function, and security. Each door is handmade by Solidor in Staffordshire, ensuring that it is manufactured and finished to an outstanding quality. You can choose from a range of styles, glazing options, colours, and door furniture. Our modern composite front doors have a 48mm timber core that combines modern styling with high security locking systems.
Heritage Composite Front Doors
We know how difficult it can be to choose the right door for a heritage home. That's why we have a special range of composite doors made specially for older properties. Whether you live in an old property or in a conservation area, our range of composite front doors are made to compliment every home aesthetic.
Our Heritage collection combines classic designs with the flair and colour of the modern era. Each of our composite front doors in the heritage range are made to suit both traditional and modern properties, adding a touch of elegance and class to every home.
Composite French Doors
French doors are a popular addition to many homes in the UK. Offering a seamless transition between the home and garden, French doors help open up your space, making it more functional and bright. All of our composite door designs and colours are available as a French door options. You can also choose from a range of handle options. Our composite French doors encompass a multipoint locking system for high security. So, these doors definitely aren't just about appearance.
How Much Does a Composite Front Door Cost?
The composite front doors we sell vary in price depending on the type, style, colour, and material you choose. If you would like to know how much a composite front door costs, call our team today. We would be happy to share the costs of our products with you and discuss how we can find a suitable front door to match your budget.
Our Composite Front Door Warranties
At Sash Windows London, we are passionate about providing a wide range of front doors for our customers to choose from. We are committed to selling and installing doors that exceed expectations. That's why we sell Solidor. In addition to high-quality products, we go above and beyond to help our customers by offering the following warranties on receipt of your final balance:
30 years on timber rot and decay
10 years on glazing
10 years on paint and stain
10 years on workmanship
5 years on hardware
Each of these warranties ensures you can fully enjoy your new composite door without worrying. Thanks to our guarantees, your composite front door will function properly and last for many years to come. If you would like to find out more about our warranties and how they can help you, give us a call today. We would be more than happy to answer any questions you may have.
Get a Quote For a Durable, Energy Efficient Composite Front Door
Composite entrance doors offer a secure, thermally insulating method of entering and exiting your home. Our brilliant door styles are customisable to suit any taste and can perfectly complement the existing building. With an experienced and insightful design and installation team, we will install the ideal door for your home.
As a leading provider of a range of window and door solutions across London, we have an excellent knowledge of home improvements and deliver the best results for many properties. Please feel free to get in touch with us for a free, fast and accurate quote on your new composite front door today.