Sash Windows London Ltd provides customers in London with a range of entrance doors to enhance the appearance of their home. As with all our products, we only offer the highest quality products built to the highest possible standards. Upon purchase, your products will come with the following guarantees:
10-guarantee on glazing
5-year warranty on hardware
10-year warranty on paint and stain
10-year warranty on workmanship
30-year warranty on timber rot and decay
Our range includes:
Bifold doors made from either aluminium or timber. Bifold doors are extremely fashionable for the amount of light they let into a room, and their ease of use. See our full range of bifold doors here.
Entrance doors are all important for making a great first impression on visitors. Products include both timber entrance doors and composite entrance doors. See our full range here.
French doors to add some charming je ne sais quoi to any property. Our range includes timber, aluminium and PVCU French doors.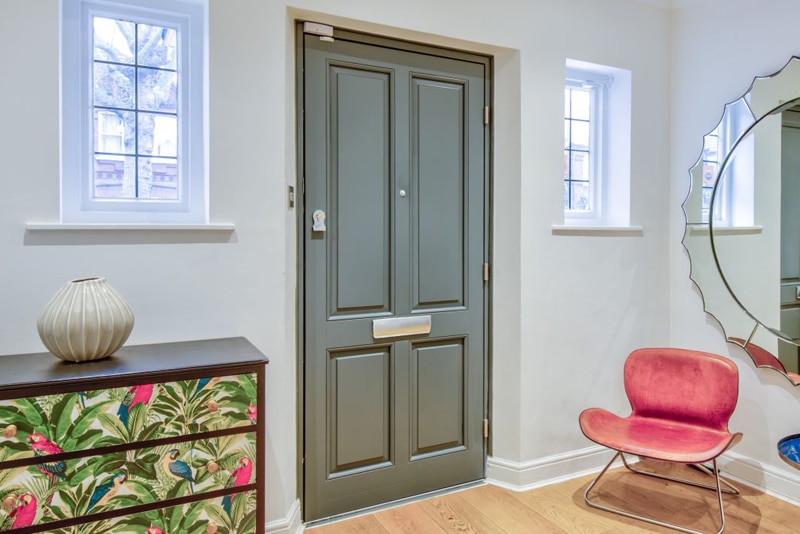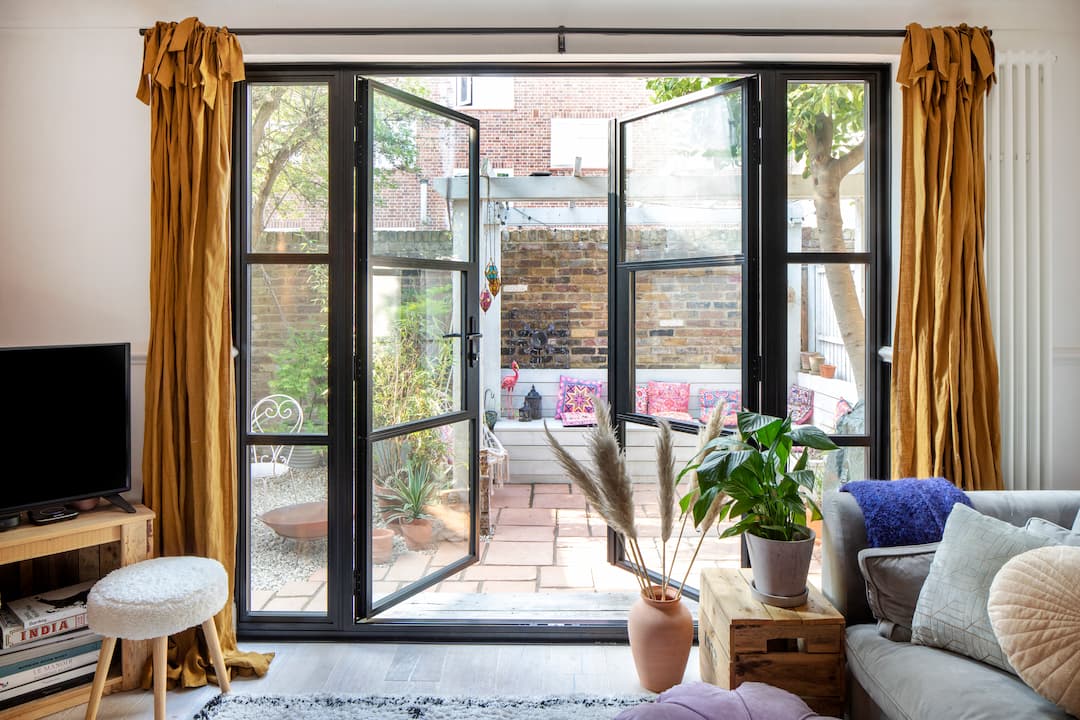 The Importance of Installing a Quality Door
A quality front door can add curb appeal to your property as well as creating a positive first impression to guests (this is especially important when selling your house). Your front door is the focal point of your home, so you want to ensure it's aesthetically-appealing as well as secure and reliable.
When you purchase a door from Sash Windows, you can rest assured that you're buying premium quality that will stand the test of time and offer a fantastic return on investment. Not only do our doors increase the security of your home but they can also save you a small fortune in energy bills.
Continue reading to learn more about our range of professionally-installed doors from Sash Windows London Ltd.
Timber Entrance Doors
Timber entrance doors are a timeless classic and are popular with our customers for a number of reasons, including adaptable, timeless design styles and finishes. Each timber door we construct is bespoke and tailored to the customer's requirements. Choose from the following styles for a truly unique finish:
Classic – time-honoured designs that exude elegance in any home.
Heritage – timeless designs inspired by Georgian, Victorian and Edwardian eras for a regal finish.
Creative – for a modern finish comprised of sleek, flush panelled doors.
Our timber entrance doors are also designed to offer phenomenal thermal efficiency, saving you money and reducing your carbon footprint and reliable locking mechanisms to ensure your home remains safe and secure.
Our timber doors can also be bought as part of a set alongside our timber window selection.
Composite Entrance Doors
Composite doors are renowned for their combined durability and stunning appearance and build quality. Our composite doors styles feature state of the art hook bolt locking mechanisms to ensure a compact and secure entrance to your property.
We only use Solidor for our composite doors, as they can be designed in a range of vivid colours and all feature 48mm solid timber cores and secure locking mechanisms. In contrast to foam-filled composite doors, our Soldiers are made of solid timber, offering a far more secure and lasting entrance door.
Add personality to your home's entrance with a stunning composite door from Sash Windows London Ltd.
Bifold Doors
Bifold doors have seen a steady rise in popularity in homes across the UK and provide a beautiful and accessible solution to indoor/outdoor living. Bifold are typically used to connect an indoor to an outdoor area, for example, a conservatory to a garden, or a bedroom to a balcony. One of the main benefits of bifold doors is not only their stunning appearance, but their ability to fold into a compact format for unobtrusive living.
All bifold doors are designed bespoke, so you can rest assured your home will be able to benefit from our beautiful bifold doors.
Aluminium Bifold Doors
Aluminium bifold doors offer a slim profile for an incredibly compact stacking formation and minimises shadows cast by the frames. They also offer more design options in contrast to timber bifold doors.
Our aluminium sliding doors also come in low or level threshold designs, allowing equal floor finishes at no compromise of weatherproofing. This also means that the bottom of the bifold doors do not jut out, lessening the risk of trips and falls. Our aluminium bifold doors are also fitted with reliable locking systems to ensure peace of mind regarding the security of your home.
Timber Bifold Doors
For a truly authentic and timeless design, timber bifold doors will provide the solution. We are able to provide timber bifold doors in a variety of RAL colours, not only ensuring a stunning finish but also low maintenance requirements. Additionally, our bifold doors are designed to be weather resistant and feature state of the art thermal breaks and sealants to ensure fantastic insulation all year round.
All doors are fully weather rated by British Standards and surpass the British Building Regulations.
French Doors
There is a reason French doors have remained a staple and popular door trend throughout history. Of course, changes to their composition, durability and security have been made to ensure a lasting build, but their core design remains much the same.
French doors from Sash Windows London feature espagnolette locking systems to ensure a fully secure and seamless locking function. This includes a fully adjustable hinge system and can be fitted with single or double leaf configurations with a variety of sidelights, fanlights and glazed panels within the doors, to suit the room design.
Choose between a lipped (proud of the frame) door frame design or a classic finish, leaving the door flush with the frame. Both options come in timber and PVCU finishes.
Timber French Doors
Our timber french doors come in lipped and flush designs.
Our lipped doors offer a modern door design and are typically installed in conservation areas, refurbishment properties or even mansions. We can also instal lipped bifold doors in Barn Conversions if it features a stone or brick finish (for more information on this, please do not hesitate to contact our team).
Flush french doors offer a more classic appearance and can be constructed to feature single and double door leaf finishes. This door finish is typically better suited to period properties, especially if there are conservation requirements that must be met.
Whether you choose timber or PVCU, your bifold doors will elegantly open to maximise space and combine indoor with outdoor space. We can also provide different opening options upon request.
PVCU French Doors
PVCU french doors also come in lipped or flush finishes. Our PVCU French doors offer the same level of quality and security but come with the added benefit of noise reduction, minimal maintenance and energy efficiency. You may also choose to have your PVCU designed in open-in or open-out styles.
Whether you choose timber or PVCU French doors, both come with optional extras, including Georgian bars and decorative glass. Your French doors are designed bespoke, so you have full reign over how you customise them. Both can also be designed in a range of foils, finishes and colours.
Call Us to Discuss Your Requirements
If you are looking to improve the entrance to your property with a stunning entrance door, or enhance the indoor/outdoor entrance with a bifold or French doorway, Sash Windows London Ltd can help.
Choose from a wide variety of door styles, security features, expert finishes and opening functions to complete your home's appearance and entranceways. All doors come with 10 year guarantees or workmanship and 30 year guarantees on rot and decay. For more information on our guarantees, please visit our About Page.
Our team would be more than happy to talk you through the door selection and installation process. Alternatively, if you are unsure over what door will best suit your property, we will happily help you choose a stunning door that compliments your property's current design.
Contact our team today to enhance your living space with a secure and elegant door from Sash Windows London Ltd.
We are Proud to Install Doors in London
Whether you are looking for strong and secure composite doors or beautiful and stylish French doors, we can install it. See below some of the areas we cover:
If the area you live is not listed above please contact us to find out if we can come out for a survey or installation.