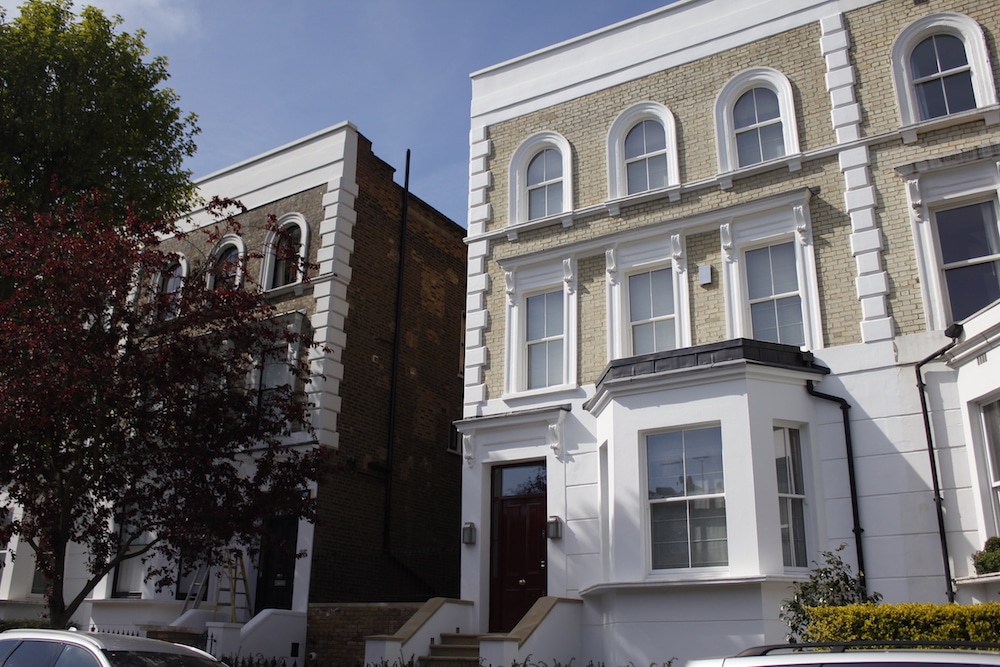 Our Arched Timber Windows
Arched windows are a key feature of many classic London properties, adding an impressive sense of personality to any building. Featuring a striking arch at the top of the frame, our arched timber windows can range from understated true arches to Gothic designs, each carefully built to your needs and dimensions. These unique windows add a touch of architectural splendour to any property, whether that's a traditional home or a modern construction.
While the arched design is a classic look, we strive to meet all modern performance needs, optimising for strength, security, and energy efficiency. This allows our customers to preserve and refresh the look of their property while dramatically reducing both heat loss and energy bills through the winter. Within busy urban environments, this will also have a dramatic impact on noise pollution.
We offer a wide range of options to suit your design preferences, with each arched timber window made to measure, ensuring a perfect fit for every property. With our expert craftsmanship and attention to detail, we can deliver exceptional visual and build quality every time. This is backed up by our range of warranties, including a 30-year guarantee on all timber components.
Timber Arched Infills
We also produce attractive timber arched infill windows, offering the arched look within a standard window shape. This is achieved through gracefully curved or arched timber infills in the upper corners of the frame, bringing a touch of timeless elegance to any property.
Like our arched options, our timber infill windows are completely made-to-measure, tailored to your tastes and the exact specifications of your existing window frames. We craft each window with meticulous attention to detail, enabling a seamless blend with the architecture of your building. Your home will benefit from both a timeless, elegant look, dependable long-term performance, and modern security standards.
Quality You Can Trust
While we go above and beyond to ensure the excellent quality of each bespoke window we produce, we also want to reassure our customers that they are investing in long-term products for their homes. Combining great designs, strength-optimised materials, and the latest in security measures, each window we sell comes with a range of clear warranties:
30-year warranty on timber
10-year warranty on glazing
5-year warranty on ironmongery and seals
What Sets Us Apart
Sash Windows London is a family-run company dedicated to providing every customer with beautiful and long-lasting windows for their homes, whether that's transforming a modern home with a traditional twist, or closely replicating the look of your existing windows. Across nearly two decades of service, our passion for delivering outstanding products and exceptional customer support have helped us become a trusted name across the industry.
Fantastic Service
Our hundreds of glowing reviews on Trustpilot and # showcase our unwavering commitment to excellent customer support, from initial consultation to aftercare. Our goal is to ensure every client leaves completely satisfied, and our helpful team will be there to answer any questions you may have throughout.
Beautiful Bespoke Windows
We offer a diverse range of designs, from sash and casement openings to both timber and uPVC options. Whether you desire arched or standard windows, each one is meticulously made-to-measure, ensuring a perfect fit for your home. This attention to detail is especially crucial for older properties which can have non-standard window sizes.
Excellent Quality
Our timber windows are built to last, easily resisting weathering and damage. Along with providing exceptional security, they also excel in energy efficiency, resulting in reduced heating bills and a warmer home through the winter. Secure frames, exact fitting, and double glazing will also provide acoustic insulation, helping to limit noise pollution entering your home.
---
Enquire About Our Arched Timber Windows
Our handcrafted arched timber windows unite architectural elegance with structural integrity. With custom shapes and sizes, these dramatic yet refined accents enhance heritage homes and contemporary spaces alike.
Experience the artisanal difference. Contact Sash Windows London today for a free in-home consultation. Let our experts determine the perfect timber arched windows to complement your vision while providing comfort and security for years to come.
---