What Are French Doors and Should I Choose Them? The Pros and Cons Explained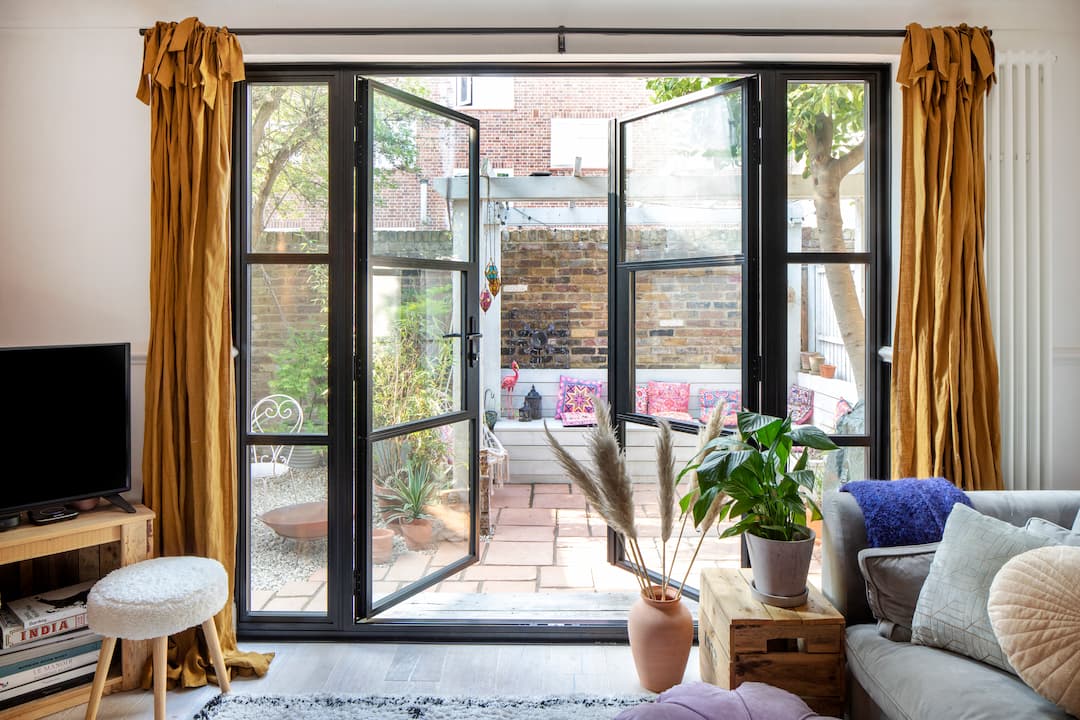 What are French doors? Well, they're characterised by two doors that open outward from the middle of the frame. They are usually glazed with toughened glass and the design allows plenty of natural light to pass through the door. It is common to see French doors in use as external doors leading onto patio areas, but internal French doors exist too.
The classic, innovative design of French doors make them a very popular choice as an alternative to sliding patio doors because they allow for a wide opening – this is great for ventilation and creating an open atmosphere within the space. Though they vary slightly, most French doors have the following essential features:
A double door design, opening in the middle.
Transparent glass panels, with either single or double-glazing.
An unobstructed opening, though there may be a central mullion in some cases.
The size of French doors can vary substantially, and some people will install a series of French doors alongside each other to cover a particularly large opening. Custom door sizes are also available for large or small openings. French windows operate on the same principle as French doors but do not normally have a central mullion.
There are many advantages to French doors and a couple of drawbacks. As leading providers of windows and doors, we can explain the advantages and disadvantages of a French door design. Please feel free to get in touch with us today if you have a door or window project to complete in the London area, we will offer a free quote.
What Are French Doors Good for?
The use of French doors is very popular due to their versatility. A French door design will be suitable for a wide range of settings, including indoor and outdoor spaces. Aside from the aesthetics, there are several other benefits including the following:
Security features: Double-glazing and toughened glass will make French doors very secure, and there are sturdy locks available to boost security for doors located on lower floors. A locking mechanism called an espagnolette bolt is often seen on French door frames, which offers simple, keyless security.
Cost-effective: With a simple design, small amounts of materials and various sizing and glazing options – French doors can be quite cheap to install. The mechanisms of sliding doors can be more complicated, which can push the prices up in some cases – so French doors are a worthy alternative.
Full frame access: Sliding patio doors are simple, but as the doors slide in a fixed position they guarantee that at least part of the frame is obscured at all times. French doors avoid this issue, creating the maximum amount of openness and the ability to allow in as much natural light and air as possible.
Internal and external use: While external French doors are by far the more common application for this design, you can use them in a similar way for interior design. Doors leading into conservatories, dressing rooms, and playrooms can all benefit from the wide and open nature of French doors.
French doors have the edge over most door designs in terms of delivering maximal light and ventilation – even bifold doors (sometimes spelt 'bi-fold doors') take up a small portion of the frame and can reduce the amount of light in a room.
The advantages described above are key reasons why French doors are such a popular choice.
What Are the Drawbacks of French Doors?
While there are many appealing benefits to the French door design, there are a few disadvantages in some cases. There are design situations where French doors may not be a wise choice. The following are some disadvantages of French doors:
Space is needed: As the doors open outward in this type of design, you need plenty of room to manoeuvre the doors from their closed to open position. As a result, French doors may be unsuitable for narrow balconies or smaller patios – especially where there is outdoor furniture also in use.
Lack of privacy: Since there is so much light and glass, privacy may be an issue for French doors in some areas. It is possible to use curtains or blinds for privacy, but unlike sliding patio doors one cannot easily slide open the door part of the way and access the door while maintaining privacy.
Energy efficiency: The amount of glass featured in a French door design makes it difficult for the doors to perform well in terms of keeping in heat during winter. Double-glazing can help with this, but extensive glazing on large doors will push up costs.
Determining what size of French doors you need can be difficult when shopping for products. Pre-made French doors have set dimensions, so may be unsuitable for your space – and custom sized doors can reduce cost-effectiveness considerably.
While there are drawbacks to almost any type of door, the main disadvantages described above will influence your choices the most.
French Doors Explained
French doors are a type of design that features two doors, which open in the middle. They are characterised by large amounts of glass, that lets in plenty of natural light. In their open position, French doors have the benefit of providing full frame access.
We are experts in the design, supply and installation of many types of windows and doors, so we understand the pros and cons of French doors. Please feel free to get in touch with us today for a quote if you have a window or door project to complete.