Installing Doors in Twickenham
Here at Sash Windows London ltd, we know how expensive replacement doors can be and that's why we are so passionate about ensuring our customers have the best products on the market. If you're tackling a home improvement project, our bespoke doors are a long-lasting and an energy efficient solution, well worth the investment. Read on to discover the products we are proud to supply and install throughout London and Surrey.
Our Doors Supplied In Twickenham
We have years of experience in the installation of modern and traditional doors, which is why we can provide a wide range of external door options with confidence: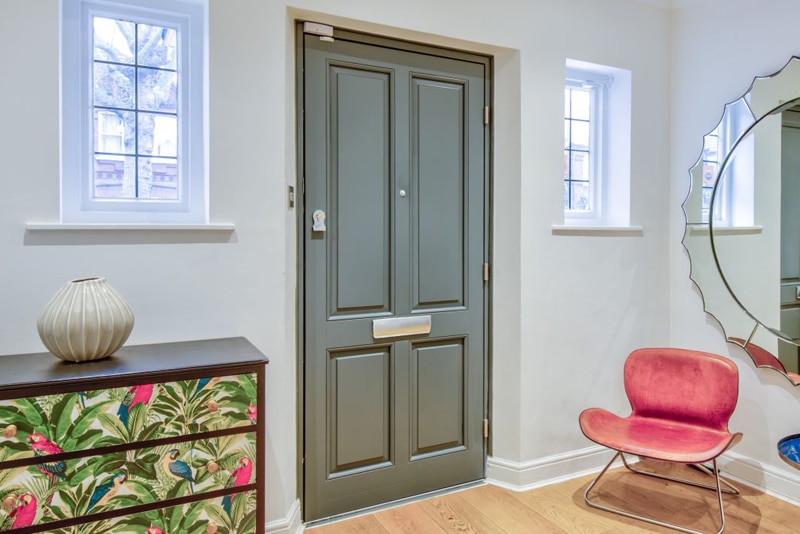 Entrance Doors in Twickenham
Front doors are a vital element of the first impression given by a home, and are also a property's first line of defence in terms of safety and security. Our wide range of classic and contemporary-styled timber entrance doors offer you all of this and more, as they are made to measure and fitted with the finest high-security locking systems. Available in Classic, Creative, and Heritage styles, you will also have your pick of period designs and finishes from any era you wish.
Composite Doors in Twickenham
If you have been searching for different styles in ranges of secure, thermally insulated, and elegantly-finished front doors in Twickenham, our composite front doors may be just what you are looking for. These doors come in 18 frame combinations and a range of colours and finishes designed to complement any kind of home. Whether you prefer a wood grain effect for an a more traditional property or are focused on smart designs in glazed panels for a newer build, you will find it all here.
French Doors in Twickenham
French doors are designed to open outwards into the bright, welcoming space of your garden or patio, and our offerings in this range provide multiple options for how you want this to look. We can supply French doors in timber, aluminium, or uPVC material designs, and each of these can be modified and manufactured to suit specific requirements. From lipped or flush profile threshold options to period decorations such as ornate glass and Georgian bars, you will get the chance to order every design element as you wish.
Patio Doors in Twickenham
Sliding doors provide a seamless transition between a home and its garden, and by choosing your doors through our service you will have the option to customise them as you see fit for your home. Our designs come in aluminium and uPVC materials for a modern or contemporary finish to any living room, dining room, or kitchen, and can be supplied in a range of colours. They also come with secure, reliable locking systems to keep a property safe and create a conduit space between your interior and exterior space.
Bifold Doors in Twickenham
To create an even larger conduit space than sliding or French doors, you will not find better than a set of timber or aluminium bifold doors from our collection. Their lightweight design, ability to blend with any architectural style, and compact stacking formation make them ideal for seamless installations through every step of the process. The ease of maintenance associated with bifold doors also means you won't have to spend a long time caring for them to keep them in their best condition.
Double or Triple Glazing for Doors in Twickenham
Our products can all be designed to let in as much natural light as possible, and to offer you the best view of your garden in the case of our French, sliding, and bifold doors. However, they can also be made to better retain heat, offer greater levels of soundproofing, and increase security and peace of mind for your home. This is easily achieved by making the glass of our doors double glazed, or even triple glazed.
All of our back and front doors in Twickenham can be ordered with double or triple-glazed glass to help keep your home warm, quiet, and safe as can be. All you have to do is let us know what glazing you would prefer when you contact us to make your purchase.
---
Stunning Doors for Your Twickenham Home
Whether you are looking for a stylish, colourful new front door for a gorgeous home façade, or have always wanted a set of sleek bifold doors to open up the space between your living room and garden, Sash Windows London Ltd will have the solution.
Our friendly team will be happy to speak with you about your needs and specifications. We will also be very transparent on prices before you place your order. Contact us and let us help you make every part of your home exactly as you want it, for more secure, beautiful, and eco-friendly living.