Sliding Sash Windows
Our team have been designing and installing new and replacement sash windows for properties across London for over 20 years. We excel in providing homeowners with custom-made sliding or vertical designs that complement the aesthetic appeal of their properties, while never compromising on energy efficiency, cost-effectiveness, or maintenance and security. 
Whether you've come to us to replace sash windows in a renovated period property, or even if you simply know that a traditional style will add a timeless elegance to your modern home, you may rest assured that we have the experience and technology to help.
We provide bespoke sliding sash windows in a wide range of styles and materials, including:
Double glazed sash windows

Box sash windows

UPVC sash windows
What is a Sliding Sash Window?
A sliding sash window is a window designed with one or more moving panels, which are commonly known as "sashes". These are traditionally set within a timber frame, which is usually softwood, although in the modern era other materials may also be used. The window's construction means that a homeowner will have to push the window upwards in order to open it, rather than outwards as with a standard window, and thereby achieve a broader opening that allows for greater airflow around a property. 
Timber Sash Windows
All of our timber sashes are crafted from sustainable softwood timber and are primed with complete energy efficiency in mind, as well as a classical charm that is bound to impress guests and visitors to your property. Timber is also an extremely versatile material, both in terms of construction and aesthetic appeal, so whether you own a modern home or something older, sliding sash windows in this time-honoured material will make the perfect addition.
Our products are also designed to meet thermal, acoustic, and PAS 24 security standards. This means that your windows will not only be as long-lasting as you've hoped, but will also keep your home as safe and secure as you need them to. They may also help you to save money on your heating bill by staying energy efficient.
Heritage Range
We are also proud to provide sliding sash windows as part of our heritage range, which sees traditional softwood timber or modern uPVC used to recreate the original features of any older or period property. Timber sash replacements are especially favoured for this purpose, as we specifically design them for installation on listed buildings and in conservation areas, where approval is normally required. This ensures that any property retains its legacy, while gaining the benefits of advanced technology in window design and construction.
Our heritage windows can be fitted in a range of colours and sizes, and can also be installed with a variety of distinctive features, including lambs tongue and putty bead mouldings and bars to preserve the authenticity. If needed, it is also possible to install a Heritage Ventlock, for added child safety and security.
All heritage windows will be designed and built to the bespoke specifications of the purchaser, and will be installed to create a perfectly subtle feature that matches their home just as they have asked. The windows will also come with a range of guarantees to ensure a long-lasting build and value-for-money results.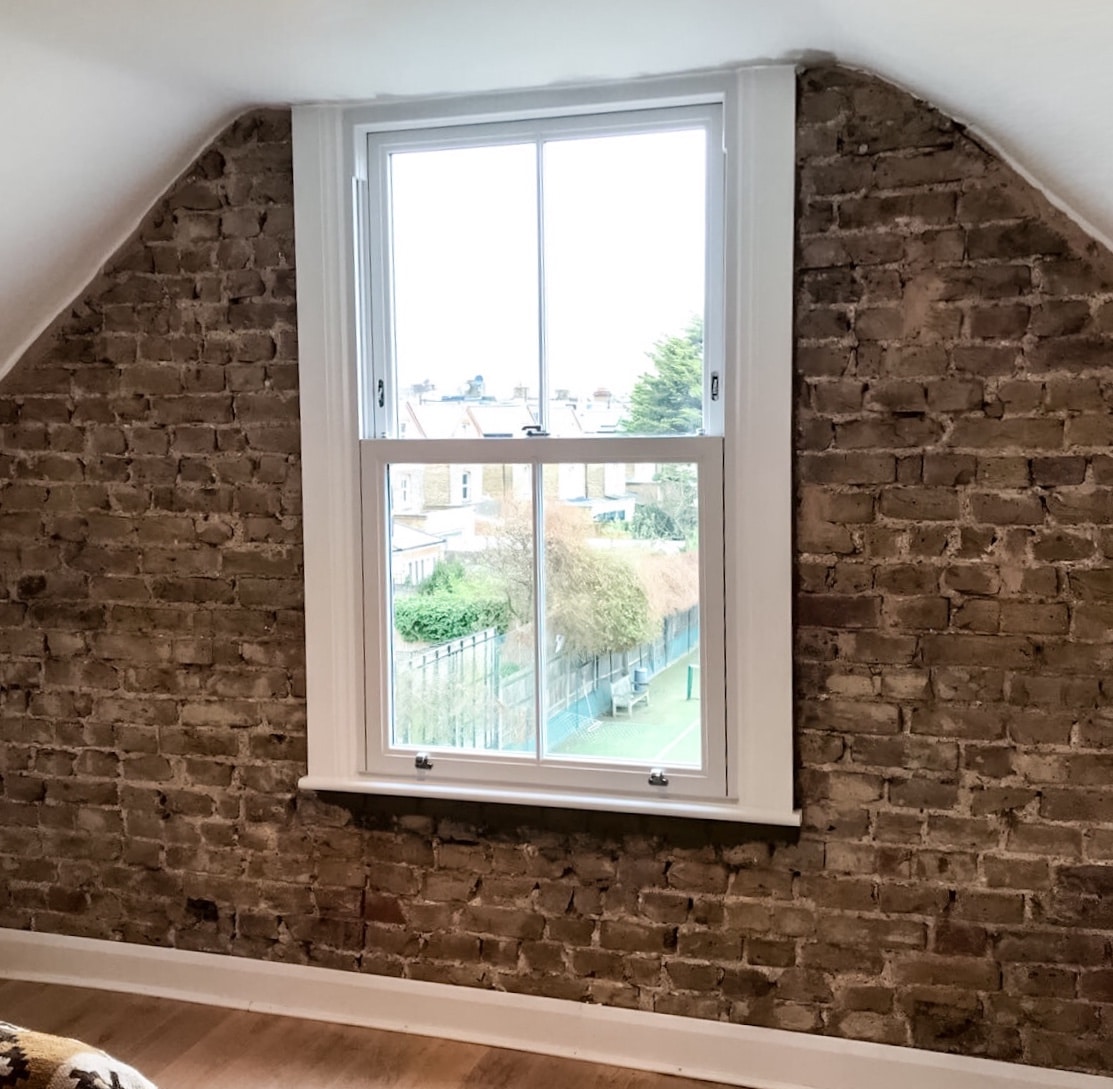 Timber Sliding Sash Windows
These timber windows are expertly designed to allow large amounts of light into your property, all while maintaining a traditional appeal and preserving any historical roots that may be expected of period properties. They are also ideal for bringing a classic element into a modern property design, though they are more popular as replacement windows for Victorian and Edwardian homes. 
If you are looking to install sash windows for a period property in particular, you may find that you are required to install them with a reduced frame width. This ensures they will fit behind reveals and not project into rooms. Our manufacturing team will be glad to professionally assess your property's frames and design and install sliding designs that fit all necessary dimensions and specifications.
Spiral Balance
A spiral balance sees your timber windows fixed to a spring renson spiral and operating purely through friction. This technique was first made popular in the 1980s, but has been improved upon since to ensure easier gliding actions when opening and closing your windows. Our team of manufacturers have mastered this new and improved version of the technique, allowing any windows that you purchase from us to effortlessly slide open without losing the character of traditional spiral balance mechanisms.
Cords and Weights
The cords and weights mechanism remains a popular, yet still traditional, movement technique in vertical sliding sash windows. Operating on the well-known pulley and weight system, the design features a heavy nylon cord affixed to wheels that allow the sash window to be pulled and released up and down as needed. You are more likely to see this particular mechanism in stone and brick buildings, but it may be installed anywhere for ease of use.
Double Glazed Sliding Sash Windows
If you have been searching for a set of windows that balances the traditional look and use of sliding sash windows with the security and thermal efficiency of modern standard windows, we are more than able to assist. Our frames are easily fitted with double glazing during construction, providing the ultimate solution.
Double Glazed Box Sash Windows
For an alternative design, you may also consider having double glazing applied to a box sash window. These come in a range of material options, including timber and uPVC. 
To learn more about box sash windows, or to find out how much they will be for your budget, please get in touch with our team today.
The Main Benefits
The main benefit you should notice from having sliding or vertical sash windows fitted with double glazing is that they are eco-friendly. Approximately 25% of heat loss in a home is lost through windows and doors, so by ensuring that you have compact sliding sash windows fitted by specialists, you may be saving yourself a lot of money in the long term.
Your windows will also come with the expected design qualities of heritage sash windows, while still benefitting from modern insulation technology. Our double glazing can be installed in both softwood timber and uPVC frames, so you will never miss out based on your material choice.
UPVC Sliding Sash Windows
This window type is designed with traditional detailing, including deep bottom rails, slim sashes, and the option of adding a Georgian bar to combine historic grace with modern materials, insulation, and security benefits and properties. You will even have the option of adding decorative sash horns for a unique finish.
If you would like to learn more about uPVC sliding sash windows, please see our page.
To find out more about problems with uPVC windows that you may be experiencing and that could mean they need replacing, please don't hesitate to read our advice here.
Purchase Your Sliding Sash Windows Here
Whether you are looking for new or replacement sliding sash windows for your property, you will find exactly what you need at Sash Windows London Ltd.. We understand the importance of designing and installing features that blend seamlessly with any home, so we will always take the time to create bespoke frames that complement your property entirely.
Our team members will be available to discuss your preferred design options and specifications from the moment you contact us, and we will always discuss pricing before you place your order. Enhance your living space with stunning, secure, and weather-resistant sliding sash windows to suit your home and get them at a price which suits your budget today.
Guarantees
30 years on timber sliding sash windows

10 years on uPVC sliding sash windows

10 years on glazing, ironmongery, and seals

10 year paint and stain warranty

5 year hardware warranty
Benefits of Energy Efficient Windows
Lower energy bills for your property

A smaller carbon footprint to your name

Perfectly matched aesthetic appeal for your property

A quieter, more comfortable home