The Most Energy-Efficient Window Coverings to Have in Your Home
After getting new, more energy-efficient windows installed for your home, the best thing you can do to save energy (and therefore money from your bills) for your property is choosing the right window coverings.
But you might not know where to begin, or how to decide which ones will work for a particular spot in your home. That is why we have created this guide to the most energy-efficient window coverings for properties, and given a few tips and examples of where they may work best.
The Most Energy-Efficient Window Coverings
There are many options for energy-saving window coverings when you need them most for your home. This means that you can choose the ones which suit your tastes and the colours, patterns, and styles already present. It also gives you the option to choose different types of covering for different locations, if one covering is found to be more efficient than others in certain locations.
We have made a list of some of the most popularly suggested coverings below, so you can start to consider which ones will work most efficiently in your property and which will look best in your interior:
Blinds and Curtains
Blinds and curtains are both regular first ports of call for energy efficient window coverings, though they may be used for different circumstances. Horizontal or vertical slat blinds, for instance, are effective at reducing heat gain and glare during the summer months, while still allowing a good amount of light into the room. They are not as good at reducing heat loss, but are easily adjusted to control glare, light, and solar heat gain when needed.
Curtains, on the other hand, are good for reducing heat loss. This is especially true when you use thicker curtains made from a heavy fabric, or have curtains with a layer of insulation material sewn into them. They should be long enough to touch or reach past the windowsill, and many people will choose to reduce heat loss further by having their curtains reach the floor. Ideally, these curtains will also be weighted in order to minimise the movement of air.
Interior Shutters
When interior shutters are closed, either against hot or cold weather, the air between the shutter and the window will become trapped. This keeps the air still, because there is nowhere for it to escape, and means another layer of insulation is added between the window and the outside. These offer a rustic charm to a room, and can be painted to match the walls or to stand out as a feature on their own.
Shades
There are many different kinds of shades that you may choose to use for light control and to reduce heat gain in a home. How much of these they will do depends on the type you have selected. Solar shades in particular are good for blocking UV rays and saving you money on your energy bill while still allowing light into the room. Roman shades and roller shades, meanwhile, are excellent for blocking out sunlight to keep a room cool and offer the most amount of privacy.
Some of these shades can also be used to help insulate a property, too. Insulated cellular shades, for instance, which are sometimes referred to as "honeycomb blinds", have air pockets which help to trap air and reduce the amount of heat lost through a window.
Certain types of shades can even be found with an automatic feature, meaning that they can be opened and closed on a set schedule. Setting this schedule at different points in the year may help to optimise the amount of heating and cooling that a home experiences.
Window Films
You can apply a window film directly to the glazing surface of a window in order to block out solar heat gain, glare, and exposure to UV rays. These products are particularly useful if your property has a problem with too much sunlight coming in through windows (for instance, you've noticed discolouration in carpets and furniture), but you also don't want to block the view with other treatments.
There are many different types of window film available on the market, so you can decide which one you would like to cover your windows with when you buy. Typically, a window film will have three layers: the adhesive that sits against the glass, a polyester film layer, and a scratch-resistant coating. On top of these, you can also find films that offer tints, UV blockers, or thicker films to help with security.
Window Quilts
Even though they're less commonly used, window quilts are a fantastic option for helping to keep a room and therefore a home energy-efficient. They are a sheet of quilted material that can be opened and closed by rolling and unrolling (similar to energy-saving blinds), and should sit snugly at the top of a window when not in use.
Energy-Efficient Window Treatments for Exteriors
When looking to make your home as energy-efficient as possible, you should also ensure that you are taking its exterior into consideration. Window treatments don't only have to be installed inside your home. We've made a list of some of the coverings you can use on the exterior of your property as well:
Awnings
While these are not commonly used in the UK, they are good at helping to protect a home from the heat and glare of the sun. However, they can also increase the amount of energy needed for heating, so it is important to adjust their use and remove them during autumn and winter.
Exterior Shutters
Like interior shutters, exterior shutters work to keep the cold out of your home by trapping a still layer of air between the window and the shutter.
Exterior Solar Window Screens
Solar screens work in much the same way as solar shades and window films do; they reduce heat gain, UV damage, and glare. Like window films, they also allow for an almost-unobstructed view out of the glass, as well as a lot of light transmission.
Why Should We Use Window Coverings?
Experts suggest that somewhere between 10% and 18% of energy in a home is lost through its windows. Even with the newest windows installed, energy will still be lost. Having window coverings on top of this will help to reduce the loss of energy even further, providing comfort, regulating the temperature of a room, and saving money from your energy bills.
The Key Benefits of Window Coverings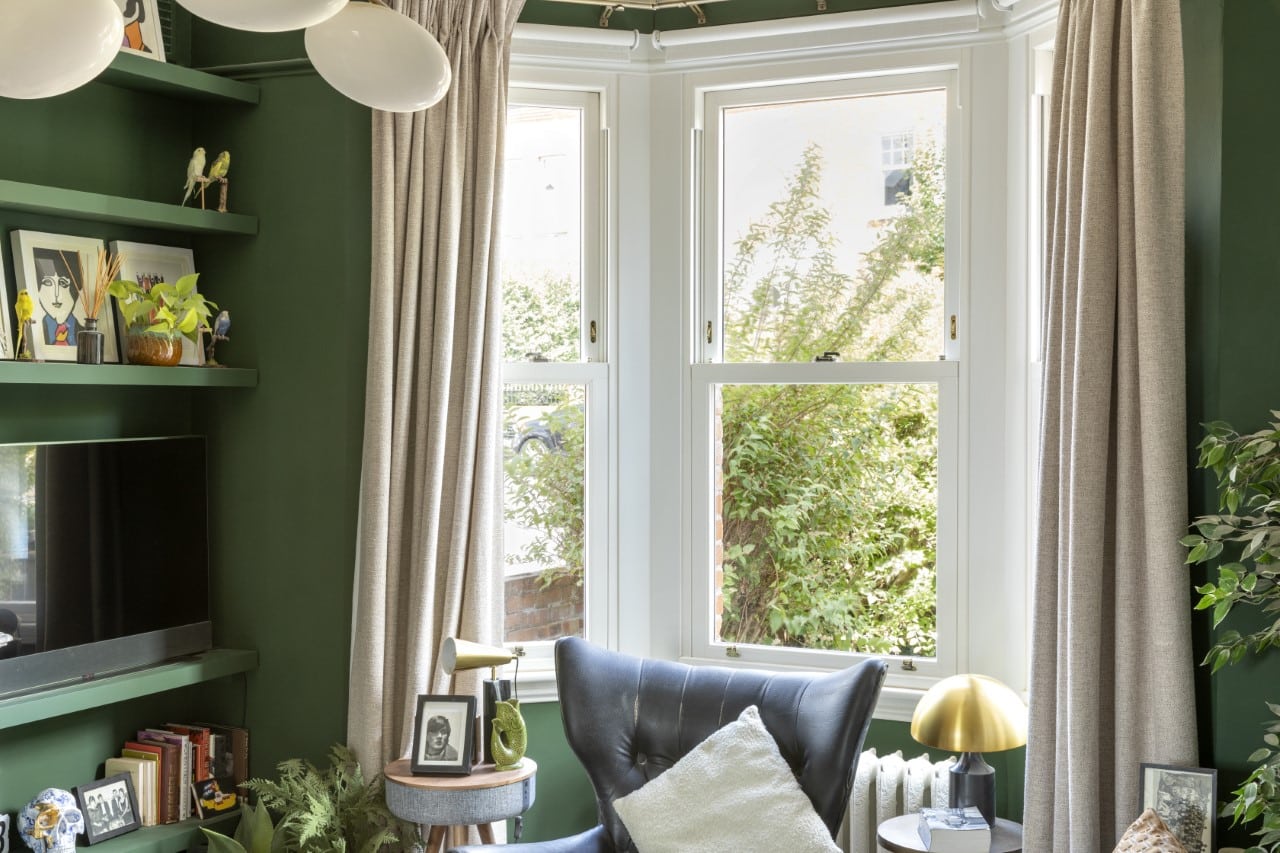 Here, we have broken down the benefits you'll be receiving by using energy-efficient window coverings for your home:
Increased comfort for residents, during both hot and cold months
An increased amount of control over daylight and glare in a room
Increased savings on energy bills
A reduction in draughts around windows
An increased amount of privacy in a home
Better temperature control in the room:

Reducing daytime and nighttime heat loss through windows when it's cold
Reducing unwanted heat gain through windows when it's hot
Tips for Operating Window Attachments
Most of the window coverings you will find here can be operated by hand, but this can often result in an issue many homeowners don't think about: adjusting coverings throughout the day, or only opening or closing those that are needed throughout the day. This is where we can step in and offer a few helpful tips that might help you to optimise your usage of window attachments and coverings.
If it is winter and happens to be a sunny day, for example, you should open the window coverings where possible and allow the sun to heat your home as much as possible. This works best for windows that face direct sunlight.
In the summer, you might decide to do the opposite and keep your window coverings closed wherever this is possible in order to reduce heat gain. Only open the coverings that don't get a lot of natural sunlight – this will keep as much heat out of your home as possible.
You might also try switching the coverings that are opened and those that are closed throughout the day in order to maximise the amount of light and heat from the sun when needed and wanted.
One of the best investments you can make if you want to follow these tips is to buy automated window covering options, so that you can set a schedule for these to work by themselves. These can then be left to open or close, and you will not have to worry about doing it manually.
How to Look for the Best Window Coverings
As previously noted, when looking for the best window coverings for your home you will have a myriad of options to choose from to suit your tastes. You will also have a varied selection to choose from in terms of what is most efficient for any particular room in the house. For example, you might decide on a roller blind or shade for a bathroom, but think that full-length curtains would be better for the new set of French doors that lead out to your patio via the living room.
When searching for the products that are going to be most efficient in a particular location, you should also remember to ensure you are looking for the products and pieces of the highest possible quality for your budget. This means the heaviest fabric curtains possible, made from a warm (not sheer) material, for rooms you want to insulate against the cold and shades or blinds that keep the most amount of heat out for rooms you want to stay cool.
By shopping around for window coverings and treatments, you are more than certain to find the ideal feature for your home. Retailers should be able to offer you the advice you need on which product is most energy-efficient. Though it is also important to note that even the best window coverings won't be as effective if you don't already have a set of top-quality, energy-efficient windows that have been properly installed by a team of experts.
---
Find Energy-Efficient Windows Through Us
In the modern era, with a growing focus on protecting our environment and a greater need than ever to reduce the cost of energy bills, it is important to ensure that you have the best-performing windows wherever possible. At Sash Windows London Ltd., we will be glad to provide you with high-quality, custom-made windows that help to optimise energy efficiency in your home. These can be made with double or even triple glazing upon request.
One of our friendly, knowledgeable members of staff will be ready and fully prepared to discuss your needs and specifications as soon as you get in touch with us. As soon as we know what you need from your new windows, we will even be able to offer you a free quote on what they are likely to cost. Contact us on the phone or send us an email today and let us help you find the energy-efficient windows that you need before you think of covering them for greater insulation.