External Wooden Front Doors for Your Home
As expert timber door manufacturers and installers, we know that the right wooden front door can make a good or a bad first impression to your home, securing your entrance. Whether you are searching for something to suit a modern or traditional home, we have the timber doors to suit you.
We sell and install doors in a variety of styles. Choose from our Classic, Heritage, and Creative range to find a style that complements your home. Our classic range featured time honoured designs, our creative range is for more contemporary styles, and our heritage range comprises period door styles that have been inspired by the Georgian, Victorian, and Edwardian era. So, you're sure to find a style that suits what you are looking for.
Wooden Door Installation
All of the external wooden front doors we sell are professionally installed with the door frame. We sell timber doors that are made to measure, with the highest performance components, and fully equipped with integrated high security locking. We have a team of expert installers on-hand to carry out professional installation, ensuring your new front door will function smoothly and last for many years to come.
Traditional Wooden Front Doors UK
We manufacture traditional wooden front doors in our Heritage Range, featuring time honoured designs that complement the traditional aesthetics of your home. Our Heritage range includes wooden entrance door styles that are inspired by the Georgian, Victorian, and Edwardian era. So, if you want to maintain a traditional style or you live in a listed building or conservation area, our Heritage range has doors to suit the style of your property.
Wooden Front Doors with Glass
To complement our timber window collection, we also sell and install timber double glazed entrance door styles. Choose from our traditional and contemporary designs with various features and functions to choose from. Complement the character of your home with a wooden double glazed front door that is made to measure.
Our double glazed front doors provide security, whilst still allowing plenty of natural light into your home. What's more, the strengthened timber of our front doors provides top performance with exceptional thermal efficiency to keep your home secure and comfortable all year round.
Wooden Front Door Security
As many as one third of Brits don't bother to double lock their doors, which is why we sell doors with integrated locking systems. Keeping your home secure is our priority which is why all of our doors have high security locking integrated in. Our wooden front doors are manufactured to meet the Secured by Design standards and the strengthened timber we make our external doors from all provides extra security, keeping your home secure all year round.
Composite Entrance Doors for Contemporary Homes
Another front door style we sell is composite. This is a fantastic timber alternative that combines the classic and modern styling of a great front door with the latest locking mechanisms to provide a secure and stunning finish.
What makes our composite doors unique is we sell a Solidor range. These doors have 48mm of solid timber at their core, giving the door a solid feel every time it is opened. We think this is a lovely touch as it creates a secure weight that you do not achieve with foam filled composite doors.
Our Wooden Door Warranties
At Sash Windows London, we are passionate about providing doors of the highest quality for our customers. That's why on receipt of your final balance, we register your installation with FENSA and provide the following guarantees:
30 year guarantee on rot and decay
10 year guarantee on paint finish
10 years on glazing
10 years on PVCU
10 years on fittig
5 years on ironmongery
Wooden Front Doors Made from Quality Timber
As expert timber manufacturers, we are proud to use sustainable timber. All of the timber we make our products from is Forest Stewardship Council certified. This ensures that our timber products have come from responsibly managed forests, reducing our impact on the environment. The FSC prohibits illegal logging, deforestation, forest degradation, and deforestation in certain areas. By choosing to source the timber for our front doors through an FSC certified company, we are helping protect forest ecosystems and reducing the impact of climate change on the environment.
Buying a Front Door: Considerations to Make
When buying a new front door for your home, there are a number of considerations you need to make. After all, your front door is one of the very first things a visitor sees when they approach your house and if it's right, it can make a great first impression.
As well as introducing your own personal style and character into your front door, you can also increase security, reduce noise pollution, conserve energy, and increase natural light. Below are some of the considerations we advise you to make when buying a new wooden front door.
Front Door Glazing: it is important to consider whether or not you would like your front door to include glazing. All of the glazed timber doors we sell are double glazed for extra security, providing plenty of natural light in your home.
At Sash Windows London, we have a range of glazing styles for you to choose from that can completely transform the look and style of your front door. We sell frosted and patterned glass, as well as single and double glazed panels. Call us today to discuss your requirements. We would be more than happy to answer any questions you may have.
Handles and Hinges: we provide a choice of front door fixtures and fittings that can complement or contrast the style and design of your front door. You can decide whether you want a larger door handle and individually select details such as door and locks. With such a wide range of door furniture available, we ensure that you don't need to compromise on front door design as we have a solution for every front door and situation.
Energy Efficiency: a good front door will contribute significantly to the heat retention in your home. That is, you will notice that your home is more comfortable all year round because your new front door is double glazed and energy efficient. The Energy Savings Trust estimated that double glazed property's in the UK typically cut around £115 from their yearly energy bills. So, consider how much money you could be saving with the installation of our energy-efficient, double glazed front doors.
Guarantees and Warranties: a good front door comes with a longevity guarantee. At Sash Windows London, we have a proven track record on Check-a-Trade of delivering excellent services and outstanding products to our customers. All of the wooden doors we sell come with the warranties and guarantees listed above. So, you can rest assured that you are receiving a wooden front door of exceptionally high quality.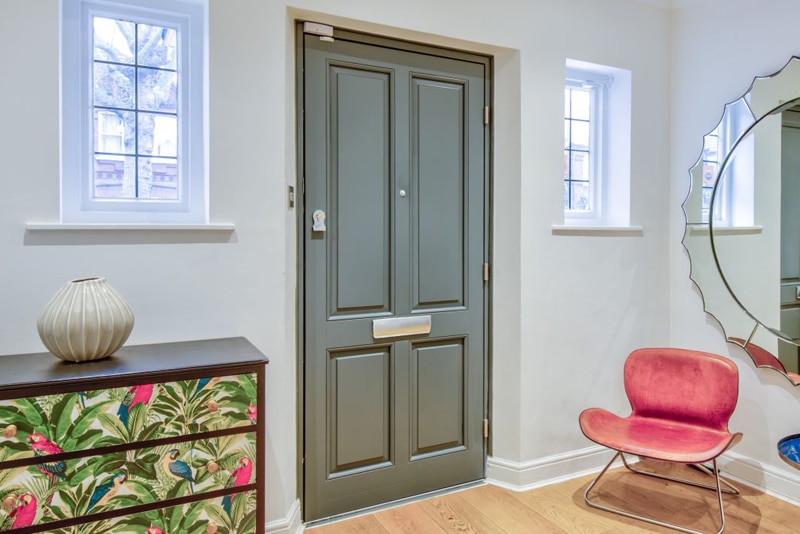 Buy a Wooden Front Door Today
Front doors serve multiple functions for your home, both practically and aesthetically. At Sash Windows London, we sell a huge range of external timber doors that have been manufactured to the highest possible standard to ensure they deliver all the features you would expect and more. We sell front doors that are made to last, offering maximum security while looking great, both inside and out. We hope you enjoy browsing the range of doors we sell. With so many to choose from, you are bound to find the right fit for your home.