PVCu Sliding Sash Windows
We have worked for over 20 years to design and install a wide range of new and replacement sash windows across the whole of London. Our speciality is the provision of custom-made or bespoke sliding or vertical uPVC sash windows that mirror the traditional aesthetic appeal of timber sash windows, while never conceding on modern comforts and benefits such as complete energy efficiency, increased security, and ease of cleaning and maintenance. 
Whether you have come to us to replace the older windows of a renovated period property but wish to match and maintain the timeless beauty throughout, or even if you would simply like a touch of period charm in a more modern home, we will have the skill, experience, and the technology to make it happen.
Our bespoke uPVC sash windows come in a variety of design options, including box sash windows and double glazed panes. If you would like to learn more about these from an expert, or to hear about prices before you place an order, please contact us today. One of our members of staff will be happy to help.
To find reviews and to learn more about what our customers have said in the past, please visit our testimonials page.
UPVC Sash Windows
All of our uPVC sashes are designed and manufactured to reduce noise pollution and intrusion, to add insulation value performance, and to remain virtually maintenance-free. With traditional detailing that includes deep bottom rails, slim sashes, and the option of adding Georgian bars or run-through sash horns, they are also created with the idea of preserving any period property's historic legacy firmly in mind.
Our products are operated on a straightforward balance mechanism, in which two sashes can be held at any height within an outer frame and work independently of each other. These window designs even come with an ingenious "tilt and slide"-style feature, in which the sashes can be tilted from the inside in order to facilitate easy cleaning. Structural strength is then enhanced through the use of steel throughout the internal chambers of the profile.
The most popular colour for uPVC is bright white, though we also provide our products in shades of cream, as well as other colours to suit any property style.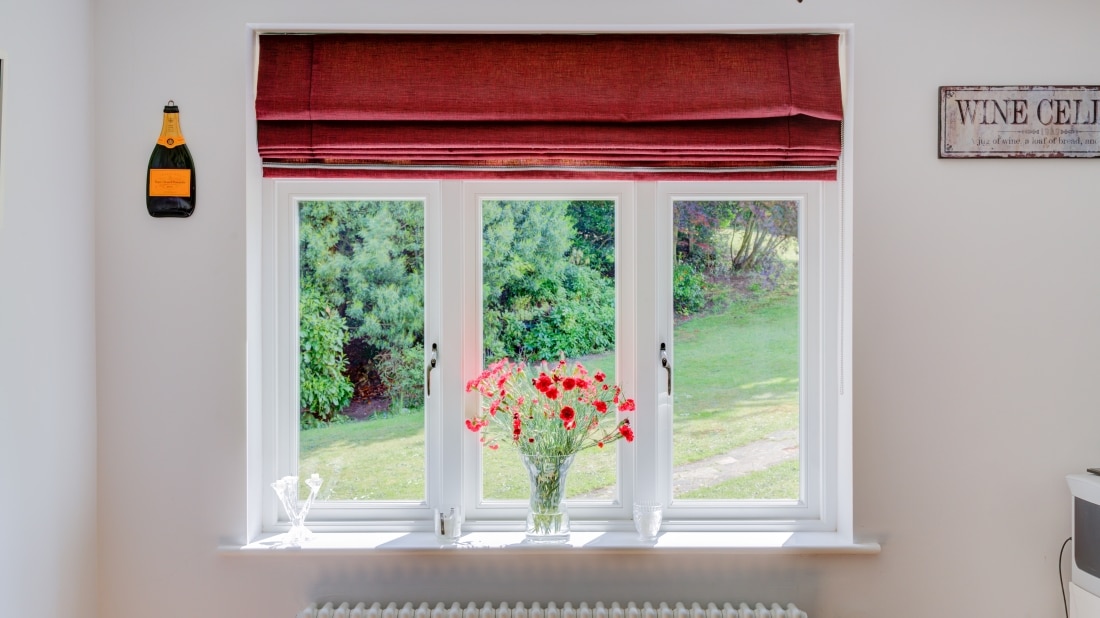 Traditional uPVC Sliding Sash Windows
Our traditional range of uPVC vertical sliding sash windows could provide you with the cost-effective solution you need when renovating a period property or updating the look and appeal of a modern home. If you have been looking at fitting windows in traditional timber frames but feel as though the prices are out of your budget, or know that you could not maintain the timber as needed, uPVC can provide everything you need at a lower cost and at an easily achieved level of maintenance. The tilt function of the product even makes this easier than before.
The attractive woodgrain feature of timber frames is also recreated in our uPVC designs, through a foil that offers the illusion of wood on the uPVC surface. Mechanical joints are used to replicate the image of a full timber window.
If you would prefer a modern finish on your uPVC sash windows, we would recommend keeping a smooth surface.
Heritage Range and uPVC
Often, we will be presented with the opportunity to carry out a project that requires special features, in order to remain in keeping with the unique character and preservation requirements of heritage areas. Our uPVC heritage window designs are regularly used to recreate and perfectly replicate the original features of period properties, especially the features of original box sash windows, and can be installed with a number of elements to ensure authenticity, including:
A deep bottom rail

Run-through sash horns

An external putty line
Our heritage uPVC windows have been installed in many conservation areas across London, and we can guarantee the same careful delivery and consideration for your own property when we carry out an installation.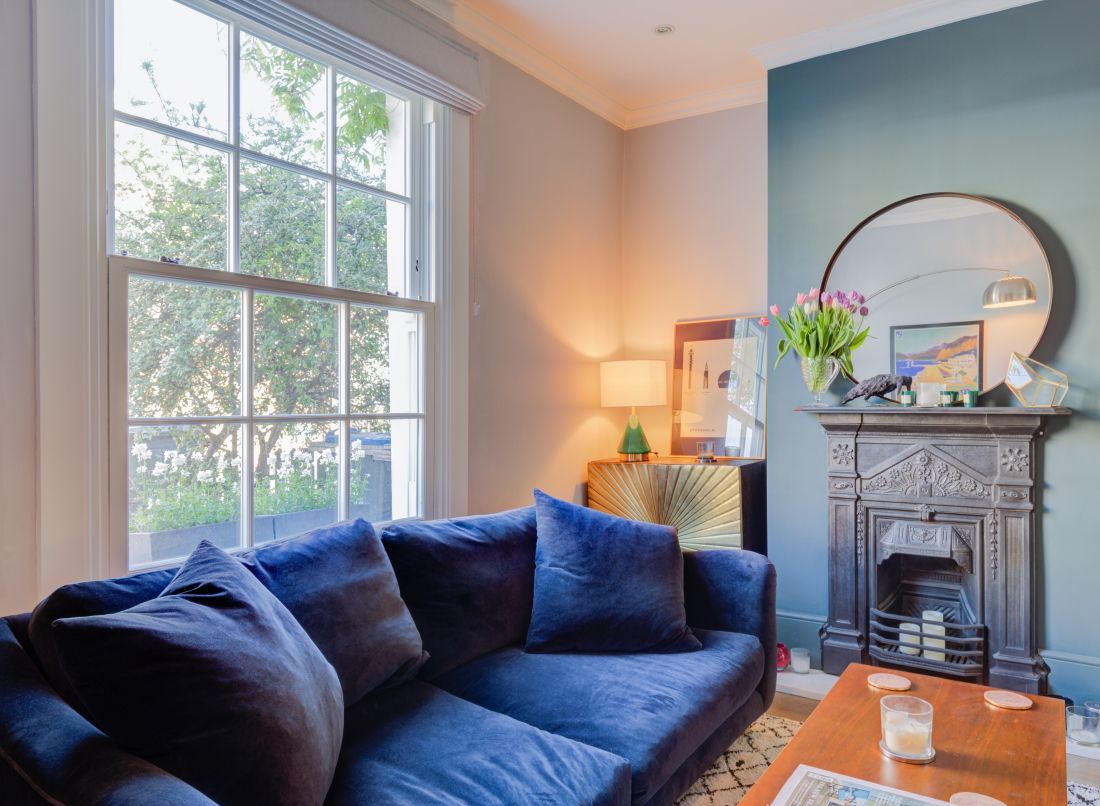 Double and Triple Glazed uPVC Sliding Sash Windows
If you know that a sash style window will suit your property best but you would also like to retain the heat, soundproofing, and security of modern windows, our uPVC frames are all easily fitted with double or triple glazed panels. 
We are proud to be one of the few companies able to offer triple glazing in uPVC tilt and slide style sash windows, so you will always be able to choose the greatest levels of energy efficiency and the window design you want, at the same time.
Double Glazed uPVC Box Sash Windows
If you would prefer an alternative design to vertical sliding uPVC with tilt and slide functions, you may think of having glazing applied to standard box sash windows. They also come in a range of colours (including white and cream), as well as a variety of material options that include uPVC.
The Main Benefits
The most important benefit that you should notice from ensuring your new sliding or vertical sash windows are double or triple glazed is the energy efficiency that will come from it. Approximately 25% of the heat generated by a property is regularly lost through its windows and doors, so by ensuring that your own compact uPVC windows are fitted with double glazing or triple glazing, you may also be ensuring they remain cost-effective.
Our specialist manufacturing team will be fully prepared to install double or triple glazing in any of our uPVC window frame designs, so you will never have to decide between the style you want for your home and the eco-friendly benefits we should strive to gain through our properties.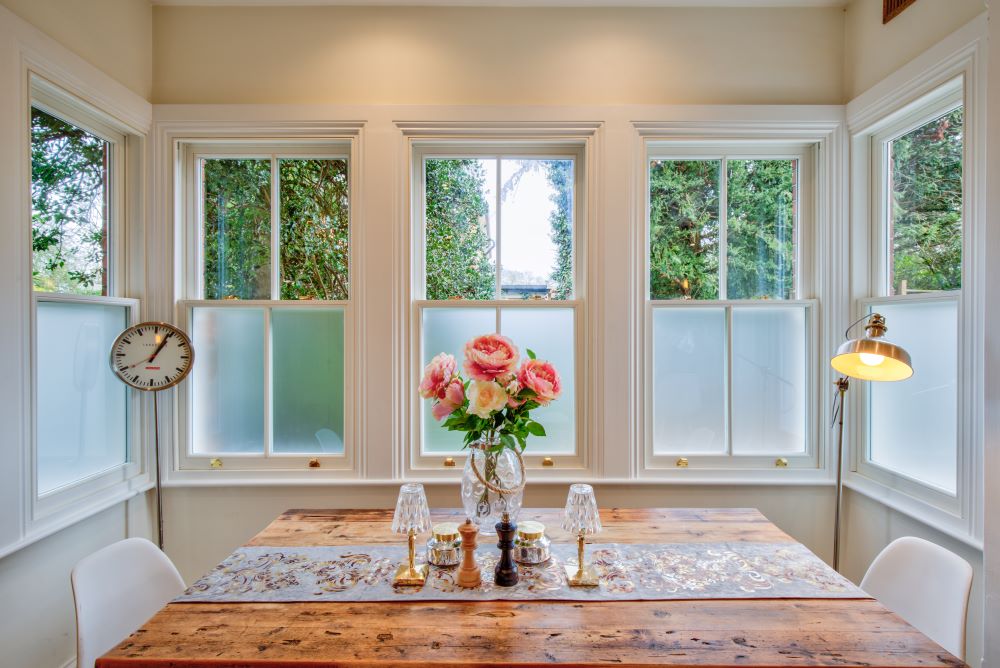 For High Quality uPVC Sash Windows
Whether you have been searching for modern-style uPVC sash windows to match the contemporary aesthetics of a new build, or need classically styled sash windows in a cream colour to blend in with the aged elegance of a period property, Sash Windows London Ltd. can provide you with the solution.
Our team will be glad to speak with you about your design specifications and requirements when you contact us on the phone or send us an email, and we will always discuss prices with you before you commit to placing an order. Bring together traditional charm and modern comforts with a set of our finest uPVC sliding sash windows today.
Guarantees
10 years on uPVC sliding sash windows

10 years on glazing, ironmongery, and seals

10 year paint and stain warranty

5 year hardware warranty
Benefits of Energy Efficient Windows
A smaller carbon footprint to your name

Lower energy bills for your property

Perfectly matched aesthetic appeal for your property in modern materials

A quieter and more comfortable home