Get the Bespoke Windows You Need With Our Streamlined System
Selecting new windows for your heritage home can be a truly overwhelming experience, thanks to the myriad style options, material choices, and the need to organise delivery and professional installation. When looking to install wooden sash windows, you'll still need to decide about features like glazing, security enhancements, grids, and finishes. All of this can be a stressful and time-consuming task, that often leaves homeowners with a result that doesn't quite satisfy their needs.
At Sash Windows London, our consultative approach aims to simplify the process for every customer, with particular benefits for those in listed homes. Through an in-depth needs assessment, we'll consider your home's architecture and style, working on a design for your ideal wooden sash window. From there, we build to exacting modern standards and install through our experienced and friendly team.
How Our All-In-One Service Helps You Avoid Stress
Whether renovating the windows in a heritage property or a newer build, you'll be overwhelmed by options. Across the UK there are countless materials, styles, brands, features, and specifications to research and compare. Whether it's exploring the pros and cons of metal versus wood or sash versus casement, you'll be committing a significant amount of time and effort, and often be left none the wiser.
Factoring in the need for approvals in conservation areas adds even more complexity. Many of our customers are living in listed buildings, and we've seen first-hand the struggles they face trying to meet the exacting stipulations governing any alterations or replacements they make to their homes. With so many choices and variables, it's easy to end up completely lost and opting for a solution that isn't quite right.
By working with customers from beginning to end on bespoke wooden sash windows, we can eliminate stress and confusion, leaving them with beautiful new windows carefully tailored to their homes.
Ensuring a Streamlined Process For Every Customer
We produce stunning windows that combine heritage designs with the best of modern performance standards. Our timber sash options are genuinely bespoke, built carefully to the dimensions of your frames, and further altered through a choice of mechanisms, profiles, and decorative horns. With our heritage profile, we can design windows to meet the needs of listed buildings, and we have a wealth of experience working with customers in older homes.
Carefully considering your home's unique architecture and needs, we'll recommend a bespoke timber sash window best suited to you. With your input, we'll handle everything from design to manufacture to installation, coordinating it all from a single point of contact. Our windows boast fantastic long-term performance, alongside great thermal and acoustic insulation, ensuring energy efficiency across many years. We'll help you refurbish your windows, installing beautiful bespoke options with our streamlined service.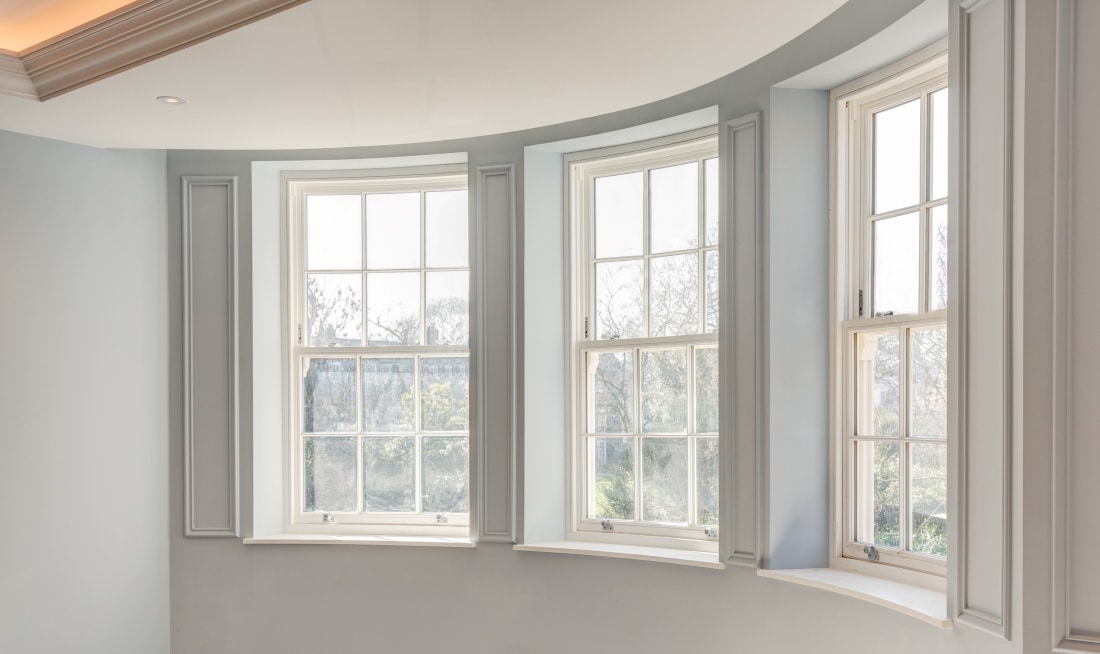 Custom Windows Without the Stress
Your home deserves windows as unique as it is. This starts with bespoke measurements, ensuring an airtight finish regardless of the dimensions of your frames. From there, you can choose between a modern spiral balance mechanism or a traditional sliding cords and weights option, both of which are optimised for excellent performance.
We offer traditional profiles, providing seamless integration into Victorian or Georgian properties, or heritage looks, designed for listed buildings. While window horns in sash windows traditionally offered crucial benefits to strength, our range of options is simply decorative, further complimenting your design.
---
Stunning Timber Sash Windows Tailored to Your Home
Replacing your home's windows doesn't need to be an overwhelming task, with our friendly team handling all the stressful details and complications seamlessly. Soon, you'll be able to relax in your refreshed home, watching the world through beautiful timber sash windows purpose-built to your specifications.
Speak to a member of our team today to get started. We'll be able to answer any questions you might have and explain how we tailor each wooden sash window we produce.