Cut Noise Pollution With Our Period Windows
Whether you live in the city or the countryside, noise pollution can ruin your home life. Caused by traffic, planes, loud pubs, and more, excess noise can make it difficult to relax, sleep, or entertain within your house. Windows, particularly older wooden options, are often one of the key points of entry for noise.
At Sash Windows London, our high-performance wooden sash windows are engineered to reduce outside noise pollution and enhance your comfort and peace. From the quality of our timber frames to our advanced double glazing, our windows are designed for both visual elegance and sound dampening. For homes in conservation areas, our heritage styles are designed to meet all listed building standards. With bespoke sizing and time-honoured aesthetics, our windows help to shield your family from the din of the outside world.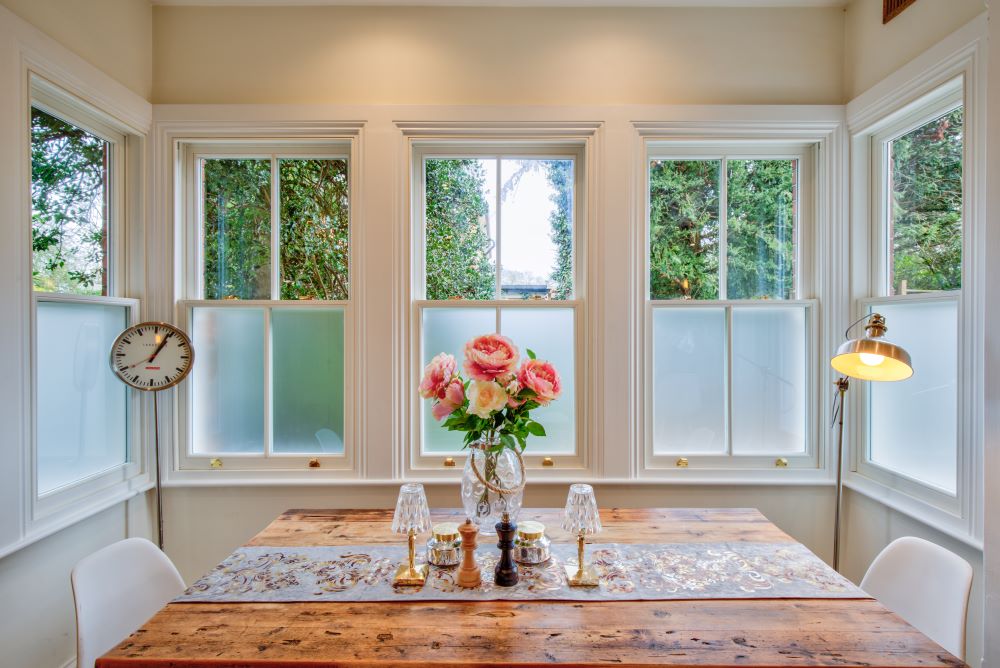 What Our High-Performance Windows Protect You From
Exposure to excessive noise does more than just disturb everyday activities, it can take a profound toll on your physical and mental health. Especially within the urban areas of London, noise sources like traffic, construction, and aeroplane landings can reach unsafe decibel levels. This environmental noise pollution has been linked to cognitive impairment, hypertension, sleep loss, and increased anxiety. Trying to rest, work, or enjoy family time with constant intrusions of loud exterior noises is stressful and damaging.
Noise thrives in homes with insufficient levels of acoustic insulation, and older windows, such as those within period properties, are often a key cause of this. With degraded frames, drafts, and single glazing, exterior noise is granted easy access to your living areas.
While understanding the importance of honouring a traditional aesthetic, Sash Windows London works to achieve a fantastic level of noise insulation on our timber sash windows, thanks to sturdy frames, bespoke sizing, and double glazing.
Upgrade Your Home With Our High-Performance Sash Windows
We work hard to create windows that seamlessly replicate the looks of Victorian and Georgian sash designs, including models suited to listed buildings. In contrast to our visual designs, we emphasise the latest in thermal and acoustic insulation through our durable solutions Combining the naturally insulating properties of quality wood with double glazing, your windows will effectively block exterior noise infiltration. As each window is a bespoke build, we'll adjust dimensions to achieve a seamless fit with your home.
Our windows look beautiful while creating a peaceful sanctuary for you, blending time-honoured elegance and contemporary functionality, letting you enjoy a serene space without sacrificing architectural integrity.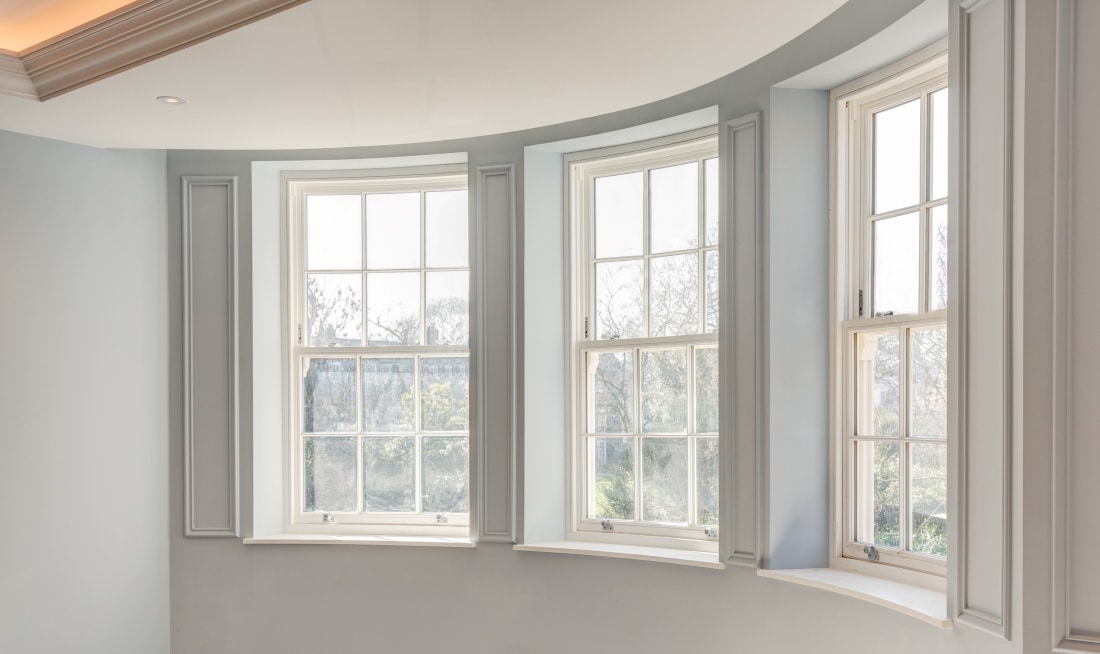 Additional Noise Insulation Tips
Alongside installing high-performance windows, there are several additional steps you can take to further reduce noise entering your home:
Cover hard surfaces like wooden floors with rugs and carpets whenever possible, which works to absorb sound.
Consider upgrading or sealing around your doors, which can be another key area where noise enters a building.
Strategically place furniture like sofas and bookshelves to block sound. Lining external walls can reduce the troublesome noise within a living room or bedroom.
If you are experiencing noise pollution through a shared wall, add insulation or hang mass-loaded sound barriers to limit transmission.
In extreme cases, sound-masking systems can be used to limit noise in an environment. It uses technology to generate sounds that work to mask unwanted noise.
Our premium sash windows can be combined with decorations and noise insulation products to further protect your home from noise intrusion.
---
Protect Your Home From Noise Today
Our bespoke timber sash windows help to defend against exterior noise pollution while retaining period-appropriate elegance. Especially within older listed properties, we can help you to enjoy your living spaces again with our bespoke designs and professional installation service.
Contact us today to learn more about insulating your home from the clamour of the outside world, and to get started with our simple design process.