Modern Stippolyte Glass Installations
Many glass options can help to obscure a window while still providing plenty of natural light. You can add different types of glass to a window frame that will help to add privacy by providing a subtle glazing pattern that will disperse light effectively into a room. Stippolyte glass is a textured glass option that will obscure windows and is an ideal glass design in a bathroom or other area.
Stippolyte glass gives you a textured glass pattern, almost like a light rain drizzling on the surface of still water. Stippolyte is a type of glass design that we call 'obscure glass' and is one of many opaque glass materials for privacy. Other types of obscure glass include acid-etched glass, frosted glass or satin glass. You can choose from varying grades of stippolyte glass panels, which will add different levels of privacy.
A stippolyte glass design is ideal for bathroom privacy, but will also work effectively on doors, windows and other rooms where privacy is desirable. Our team can work with you to find the best products for your home and can provide choices that suit most budgets. 
Get in touch with us today for a free quote on your stippolyte glass windows installation.
Benefits of Our Stippolyte Glass Installations
We can supply and install windows using many types of glass, bespoke to your needs and with a fitting design for your building. The primary benefit of our stippolyte glass windows is extra privacy, but you also get the benefits of other modern types of glass windows.
Other benefits of our stippolyte glass installations include the following:
Less noise pollution
Using our double-glazed stippolyte glass window designs you can benefit from better sleep and greater comfort as our windows provide excellent sound insulation. The issues of traffic noise or other sources of sound pollution from outside are greatly reduced.
Extra security
You will not have to sacrifice on security with our stippolyte glass frames, and the double-glazing can enhance your security. With sturdy and durable frames, which we install using the best tools and techniques, and durable locks your window is even more secure.
Cost-effective
Your windows will come at a price suitable for your budget. Our clever team can come up with helpful product selections and window options that keep the cost of your installation low, meaning you can improve the standard of living in your building much more easily.
You can also choose to have one panel with stippolyte glass and another without, which can help to add extra light in areas where privacy is less of a concern. This can be useful for a lounge with street-facing windows, in which case stippolyte glass on the lower panel may be all that is necessary for sufficient privacy.
If you prefer we can use different types of textured glass or a combination of glazing types. When using a combination of glazing you can add a frosted window film to clear sections, which imitates obscure glass patterns when you require extra privacy.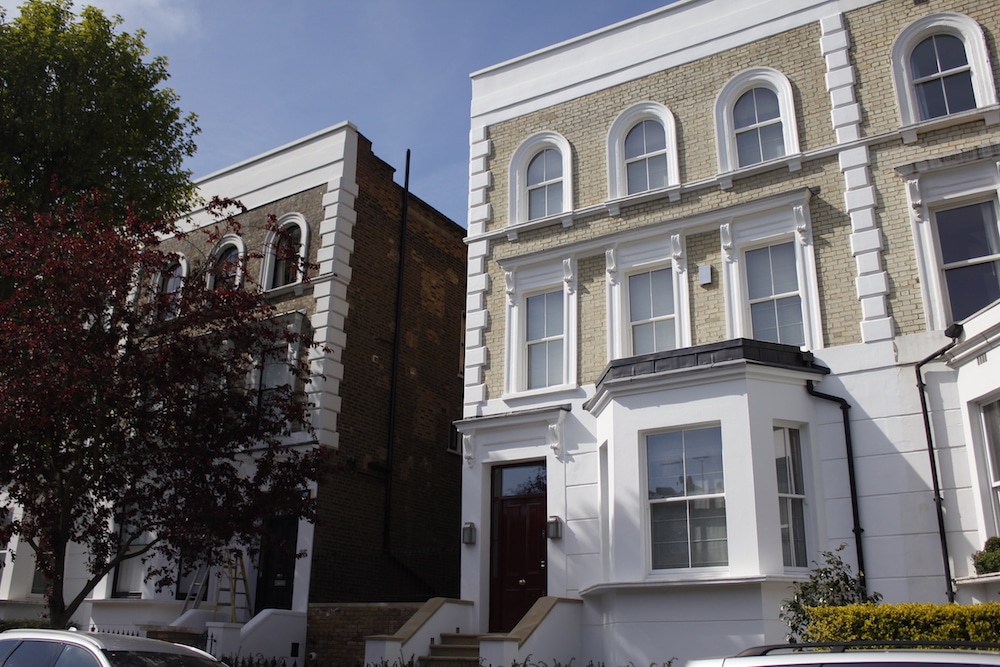 Why Choose Us for Your Stippolyte Glass Windows?
With the help of our knowledgeable and experienced team, we can take care of every aspect of supply or installation – we will come up with a bespoke solution that comes in on time and budget. All of our products are of the highest quality, UK-manufactured and will be installed by our expert team.
Our services have a reputation for excellence and reliability, and we maintain a commitment to the environment and sustainability throughout our work. You will get the advantage of our creative skills and a long-lasting installation. You can view our testimonials for an idea of what our clients feel about choosing us.
A particularly happy customer has the following to say about using our services:
"I can't recommend Sash Windows London Ltd enough! The consultation was concise and clear and the install was swift, easy and effortless." – Marc Benoit
We also earn excellent reviews on independent trade sites such as Trustpilot, which demonstrates our first-class reputation.
Purchase your Bespoke Stippolyte Glass Windows Today
You can benefit from greater privacy without sacrificing natural light by using stippolyte glass in your bathroom or other rooms. Our high-quality windows are available with options that suit most budgets.
The team will take care of every aspect of your stippolyte glass window design or installation and our windows will greatly enhance your standard of living. 
Get in touch with us today for a free quote on your stippolyte glass windows.